100 Years ago, on her ill fated maiden voyage, Titanic left Cobh, her last port of call, on this very day – the 11th April. 100 years on and the MS Balmoral cruise liner, which is retracing the voyage of Titanic, and left the Port of Cobh on Monday evening, has also been surrounded with drama.
Upon leaving Cobh and some 135 miles off the Coast of Valentia, Co Kerry, the cruise liner declared a medical emergency, when one of the on board passengers became unwell with a non threatening heart condition. The cruise liner made contact with the Irish Coast Guard, immediately about-turned and sailed to within 113 miles of the Irish coast to meet the rescue helicopter, which was sent from Shannon. The passenger was then air lifted to hospital in Tralee and the cruise liner resumed its journey.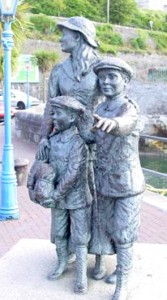 It is expected that despite the delay, the MS Balmoral will arrive at the Titanic wreck site as planned on Saturday for a memorial ceremony.
Cobh gives National Tribute today at 2-5pm, exactly 100 years on from when the Titanic arrived in Cork Harbour, and which will include a commemoration ceremony and a fleet review from the Irish Navy.
There are an abundance of memorial events happening throughout the country, and you will find many Titanic events to attend during your vacation in Ireland.