Following the considerable success of The Gathering 2013, Tourism Ireland has already commenced its US promotional campaign for 2014 with a week-long national TV campaign. Tourism Ireland has stated that the televised promotional campaign will hopefully be seen by millions of Americans who might be persuaded to plan Ireland vacations during the coming year.  
The Irish tourism adverts will hit US TV screens on Christmas Day and continue through to New Year's Eve, and will be available on national cable channels, including National Geographic and Ovation, as well as on key target television networks in New York, Boston and Chicago.
The campaign includes a new 30-second ad for the Wild Atlantic Way which is a recent addition to the Irish tourist landscape and comprises the country's first long distance route stretching from  Donegal down along the island's west coast to the West Cork region. These adverts will air for the first time during the Michael Buble Christmas Special on Christmas night and continue over the holiday period, including various New Year's Eve countdown programmes.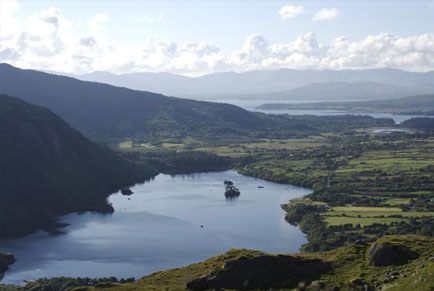 At the launch of the 2014 campaign the CEO of Tourism Ireland, Niall Gibbons, stated:
 "2013 has been a record year for American visitors to Ireland – even surpassing our previous best year of 2007… This year, Ireland welcomed over one million Americans, spending US$1bn. We aim to build on this success in 2014. We will continue to implement our strategy – Make Ireland Jump Out – targeting new audiences with strong potential for growth through a very extensive programme of promotions.

"Factors which augur well for 2014 include an 8pc  increase in airline seats from the US for the peak summer months, including a new, year-round flight from San Francisco. And in August, we will welcome thousands of American football fans for the Croke Park Classic – when the University of Central Florida takes on Penn State University for their 2014 season opener. It promises to be another great sporting event and follows the enormously successful Notre Dame v Navy Emerald Isle Classic in 2012."
Tourism Ireland's promotional drive continues in the New Year – with ads airing on PBS (Public Broadcasting Service) around the fourth series of Downton Abbey promoting trips to Ireland, which begins on 5 January. A fresh online marketing campaign will also commence on key American websites from mid-January in the hope of enticing many more visitors to avail of some great value vacation packages to Ireland in 2014.