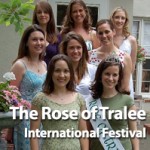 In this month's newsletter Seamus O'Murchu looks at one of the oldest beauty pageants in the world, The Rose of Tralee which starts on August 22nd.
As always, DiscoveringIreland have a very special offer this month giving you the opportunity to spend a week in Ireland for just $399!
Furthermore, for anyone who missed this last month, we are also continuing to keep you up to date with the top remaining festivals in Ireland this Summer & finally in this edition we hope you'll enjoy experimenting with this month's extra special traditional recipe!
Read the DiscoveringIreland Ireland Newsletter in full.