Hiring a personal driver for your vacation to Ireland is an incredible and worthwhile idea. Ireland chauffeur travel is now becoming a popular option for touring around the Emerald Isle. It is a surprisingly affordable option and it allows you to be fully immersed in your vacation from start to finish. If you want to have a richer, safer and more intimate vacation experience a chauffeured vacation is the perfect choice. At Discovering Ireland Vacations, we have listed below some of the main benefits in choosing a private driver for Ireland trips.

1. Flexibility and customisable
Enjoy your Ireland tour at your own pace. When you have a personal driver you can change your mind at a moment's notice. If you see a cute craft shop, cafe or country view that you wish you could get out and explore? Then do! Having a private driver allows you to get out and smell the roses. Want to go off the beaten track, eat where the locals eat or find out local knowledge than simply look no further. Have you a particular area of interest, sport or hobby? Let your driver tailor your trip around it.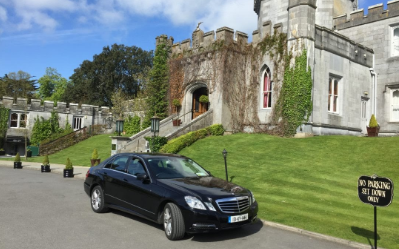 2. Smoothness
When taking part in a self drive vacation there are often responsibilities and tasks that holidaymakers don't consider will impact their experience. Consider how carrying out necessary car checks, driving in an unfamiliar place (on the other side of the road), navigating notorious winding country lanes of the Wild Atlantic Way etc might remove you from the relaxation and flow of your special time here.
An additional bonus to this is that private driver's cars are often of a much higher standard than the airport hire cars you would drive yourself. Enjoy the comfort of a large and luxurious car, with plush interiors and the finest drive quality imaginable. Fancy a drink at our many famous distilleries or with your meal? Enjoy it without the risk of it impeding your driving or organizing a taxi.
3. Fun and friendship
Having a private driver for your trip is like having an Irish friend take you on your perfect holiday. Enjoy the fun of car journeys with local stories and tales. See the best sites at the right times, eat at the many hidden Irish gems and have your holiday experience entirely focused around your needs. Ireland is distractingly beautiful, enjoy it at your leisure, stop at a whim. Allow your driver to take care of boring logistics, tickets , timing and so on which can often rob the joy out of your precious moments.
4. Value
Hiring a driver might not be your usual scene at home. People are generally surprised at it's affordability here and first time users simply cannot believe how much stress and planning it removes from their holiday. This is your time off and when it comes to investing in it, there are very few things as valuable as hiring a driver. This option allows you to travel the length and breadth of Ireland in the safest possible manner.