If breath-taking scenery and romantic settings are your dream Ireland honeymoon, the West of Ireland including counties Galway, Mayo and Clare should be the number one on your list of places to visit. Easily explored on a self drive tour of Ireland Mayo, Galway and Clare provide some of the most breathtaking scenery along the Wild Atlantic Way. To help you with your trip,  we have compiled a handy guide to explore the West of Ireland and become immersed in an idyllic experience.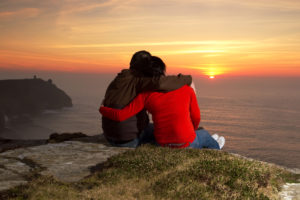 If you're having your honeymoon in the month of December, the Christmas markets definitely add to the electric atmosphere of Galway. The famous Ferris wheel can be seen from miles away with the bright lights beaming through the markets, not to mention the photography that can be captured on the wheel. There are also a variety of food stalls, live performances from local talent and a traditional carousel to enjoy on a honeymoon. 
Should you choose to have your honeymoon outside of December, there is no shortage of activities that can be enjoyed. Cycling the Wild Atlantic Way captures the spectacular scenery of Galway while also offering a picturesque view of the Atlantic Ocean. If you would like to find out more information on how you can cycle your way through the Wild Atlantic Way, you can visit Tripadvisor's website.
Travelling away from Galway,  Co. Clare has amazing sights for couples to indulge themselves in. 
The Cliffs of Moher is enjoyed by thousands of tourists each year and brings a unique touch to a honeymoon. There is a highly-sought tour from Galway to Clare which brings you directly to the Cliffs of Moher. On the way, you will pass the Dunguaire Castle which is famous for its ancient features dating back to the 16th century. This is the perfect opportunity for lovers to capture moments which will last a lifetime. 
If you wish to enjoy a drink in Clare, there are many bars and restaurants which provide delicious food and drink selections. If a more traditional nightlife appeals to you, the Doolin Music House is a must-visit. The traditional singers and musicians will have you dancing into the early hours of the morning creating a warm atmosphere with a blazing fire. If a more modern scene is for you, there are many modern bars which can be enjoyed such as The Castle Late Night Bar which provides both great drink and entertainment for couples. 
Additionally if you both enjoy a round of golf, there are many championship golf courses in Clare to enjoy a golf vacation in Ireland such as Trump International Golf Links, Lahinch Championship Golf Course, Dromoland Golf Course and more.
Finally, Mayo has always been the one county which people tend to forget about. However, for couples, there is no shortage of activities to be enjoyed. The main attraction to Mayo is Westport. The Atlantic Drive on Achill Island has been known to bring the sound and sight senses to life. The sound of the waves crashing against the rocks brings a relaxed atmosphere to any honeymoon and escape from reality.  
Checkout the full list of accommodation options for the West of Ireland with Discovering Ireland Vacations as well as the easy ways to get in touch with the various accommodation providers.