Recently I was invited on a familiarization trip around Cavan, Leitrim, Meath, Mayo and Roscommon by the lovely people at Irish Country & Manor House Hotels (CMV), Ireland's premier group of independent hotels. I was very interested to discover this particular part of the country as apart from Co. Mayo the counties included would not be on the typical tourist route which tends to stick very much to the beautiful coast lines of Ireland.
After spending the night in a very comfortable hotel room provided by the brand new Clarion Hotel in Cork my colleague Sylvie and I caught an early morning flight from Cork to Dublin with Aer Arann.
After partaking of a large coffee at Dublin airport we were met by the girls from CMV, Alison, Dara, Marta and Orla. From there we boarded our Kerry Coaches tour bus and were introduced to our driver, Gary as well as travel agents who had come from as far away as New York, Italy, France and Belgium.
Our first stop was Cabra Castle just outside the village of Kingscourt in Co. Cavan. I must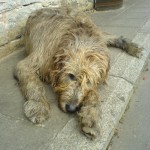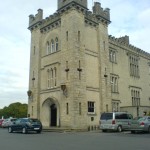 say I'm somewhat biased when it comes to castle hotels as staying in a castle is such a once in a lifetime opportunity and a truly special experience. The one thing I would say about Cabra Castle is that most of the rooms are actually outside the castle in the courtyard area. However they are beautifully furnished to the highest standard and you have the added comfort of the on-site security guard – a beautiful Irish Wolfhound called Oscar.
After some gorgeous scones and more coffee from our hosts at Cabra Castle it was back on the bus for a and onto our next stop at Errigal Country House near the village of Coothill. I must say I personally did not like the décor in the rooms although they were certainly large in dimensions. Unfortunately however they only had double beds, even in the honeymoon suite and my overall impression was of a lot of brown. On the plus side the spa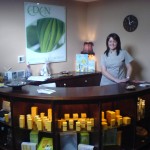 facilities were fabulous and the restaurant was a lovely warm room where they provided us with a gorgeous buffet lunch which exceeded all expectations. The service throughout the hotel was warm and friendly and I also noticed that they had a very good selection of wines.
After being waved off by the friendly staff at Errigal House it was time for some serious fun so we headed to the Causey Farm Experience just outside Kells in Co. Meath where we were to be Irish for the day. Now for the Irish amongst us like myself I'm sure we were all thinking there was nothing new for us here but I have to admit even I learned something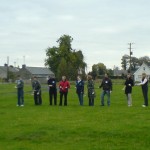 new! While being a great fan of watching our national sport of Hurling I had never actually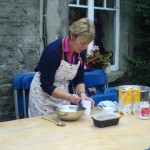 tried it myself and our lesson from Matt gave me a new appreciation for the skills involved. And while I bake bread myself I got a few new tips from our traditional soda bread making lesson. I'd also never seen a sugan rope (a traditional rope made from straw) being made nor had I seen sheepdogs gather a flock of sheep as speedily as Matt's dogs managed it. I'd also never seen an American milk a cow! And it was amazing how quick and easy it was to learn to play the Bodhran (an Irish drum) under Deirdre's expert guidance.
The Murtaghs who run the Causey Farm Experience, have been farming in this area for a thousand years. Nowadays they have a beef cattle and sheep farm with a small herd of Connemara ponies.
There were originally ten in the family – Tom, Lilly and their eight grown-up children – seven sisters (Deirdre, Angela, Nuala, Camilla, Della Bernadette and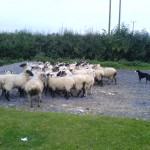 Una) and one brother (Matt). Most are now settled and there are eight grandchildren. Deirdre, Angela and Matt are involved in the Be Irish For A Day business. Some of the other things you can experience include Traditional Turf Cutting, Ceili Dancing Class, Tractor and Trailer Ride and if you are there at the right time even an Irish wake.
After a great afternoon of fun and games it was back to the Headfort Arms in Kells to wash off the smells of the farmyard and get ready for dinner. After a speedy bath I reconvened with the rest of the group in the bar for a welcome glass of bubbly. After a tour of the spa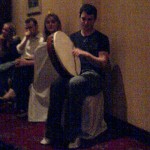 facilities we made our way to our private dining room for the most wonderful dinner. The duck was succulent and the stick toffee pudding was melt in the mouth! After dinner we were joined by Deirdre from Causey Farms along with 2 of her friends and they proceeded to entertain us with some great Irish music and song. I retired to my room at the witching hour of midnight and proceeded to sleep like a log in complete comfort.
After a speedy breakfast the next morning we were all back on the bus and ready for road by 9am, some of the party looking a little the worse for wear having sampled the delights of the Headfort Arms on site nightclub. Our first stop on today's itinerary was Lough Rynn Castle in Co. Leitrim, the newest addition to the Manor House Hotels. This was by far the most luxurious of the hotels we had seen so far and struck me as a wonderful location for a wedding or indeed for anyone who wanted to get away from it all and experience the peace and tranquility of a country manor estate. It is also a mecca for fishermen and golfers alike while their lady companions can while away the hours in the state of the art spa facilities. As for the rooms, pure luxury – I wanted to check in there and then. Sadly we only had time to sample the divine shortbread cookies before we were once more on our way.
Our next stop was Knockranny House Hotel in Westport. Here I was on more familiar territory, not because I had been there before but because I had booked many guests into this hotel and in turn heard many good things when they reported back to me afterwards. And may I say I was not disappointed. Knockranny House has everything you could want from a hotel although I was particularly taken with the surprisingly spacious spa, spas in Ireland tend to be a little cramped as a rule and the Salveo spa at Knockranny was anything but. We also got to see the wedding facilities all set to go as they were expecting the bride and groom shortly after our departure, in fact I was rather disappointed that the champagne at the front door wasn't for us after all! After seeing the wonderful suites that Knockranny has to offer (more like a house than a suite!) we had a wonderful lunch before meandering down the hill into the town of Westport.
Westport is a beautiful little town nestled in the foothills of Croagh Patrick with views of the many islands that are sprinkled liberally in Clew Bay, the largest of which is Clare Island which makes for a great day trip. In the heart of the town is the Clew Bay Hotel a quaint country hotel which forms an integral part of the town itself with it'd busy restaurant and coffee shop. It is a family friendly hotel to the point where when I went to find the manager I found him with a baby in arms. When I enquired whose it was it turned out to be a guest staying at the hotel so like I say family friendly at every level. They even have a playroom off of the bistro dining room, a genius idea I'm sure you'll agree. Another point to mention that rather amazed me is the beauty rooms at the Clew Bay feature a make-up artist trained by MAC and as such can offer their guests MAC products, not something you expect to find in a rural country hotel, that's for sure! After more coffee and petit fours we spent a happy hour shopping up a storm in Westport.
After our afternoons activities it was back on the bus for a snooze as we retraced our steps back to Kiltimagh, our destination for the evening. After a quick tour of the Cill Aoidan Court Hotel in the centre of the village a couple of us waved goodbye to the bus and strolled the short distance to the Park Hotel which lies on the outskirts of Kiltimagh. The walk was badly needed after all the good food we'd been indulging in along the way.
We were greeted at the Park Hotel with Irish Coffees while our bags were taken up to our rooms. Then after a quick freshen up we were eating again, this time dinner in the restaurant at the Park Hotel, Kiltimagh where the oysters were the best I've tasted in a very long time. The evening was spent relaxing in the bar listening to the resident band and watching those brave enough to take to the floor for a waltz. I'm not sure what time it was when someone suggested trying the outdoor hot-tubs but due to the late hour we thought better of it and retired to bed.
Sunday morning dawned far too quickly and I was reluctant to leave my very comfortable and cosy bed. By a happy coincidence I was getting very familiar with the beds in the Park Hotel Kiltimagh as I had spent the previous Friday sleeping off the effect of a transatlantic flight in the very same hotel. This is due to the hotels close proximity to Ireland West Airport Knock where I had flown in from JFK. It was the ideal place to sleep a day away and get back onto the local time zone. The hotel also provides a free shuttle service to the airport, a nice way to avoid airport parking charges.
Luckily I had been organized the night before and as I was beautifying myself in preparation for the day I was greeted by the happy arrival of room service with my breakfast. After relaxing over my egg and toast it was back on the bus and off to Ballina.
Just outside Ballina is the Mount Falcon Country House Hotel and I have to tell you I fell in love with this property. It is set on an estate of 100 acres of landscaped gardens and (my favorite) woodlands. The swimming pool is surrounded by glass and extends out into the woodland area allowing you to feel like your swimming in a fairy woodland while still staying inside in the cosy warmth. The restaurant is set in the original kitchens of the old house and features a specially designed menu based on that mine of information, Mrs Beeton! The River Moy runs through the estate giving access to some of the best salmon fishing in Ireland. In addition to the hotel there are also self catering properties on the estate in three unique locations, the woodlands, the courtyard, and the lakeside. Above all the Mount Falcon Estate has a unique feeling about it that you have somehow come home.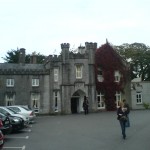 Reluctantly we waved goodbye to Mount Falcon, re-boarded our bus and had a snooze while Gary drove us to our final destination, the Abbey Hotel in Roscommon. Here we had our last meal and made our farewells before heading back to Dublin airport and our flight home to Cork.
Overall it was an enjoyable and informative FAM trip and I'm happy to say it has expanded my knowledge of these midland counties and the accommodations available therein. A big thank you to the girls at CMV and we'll look forward to seeing them again some time in the future.