France has regularly proven to be one of Ireland's top tourism markets and Tourism Ireland are aiming to maintain the recent growth in the number of French planning vacations in Ireland with a new campaign aimed at the Paris Metro. France accounted for almost 455,000 visitors making trips to Ireland in 2014.
The main thrust of the campaign will see billboards placed in the Paris Metro to promote new daily flight from Paris-Orly Airport to Dublin thanks to the collaboration of Tourism Ireland and the French airline Transavia.
The new route between Paris and Dublin will be the first to a northern European destination for the Air France-KLM owned low cost airline, and the service will begin operating on the 1st June.
The campaign includes approximately 550 billboard ads promoting the low cost air fares to Dublin which are currently visible in the Paris Metro. The billboard advertising campaign will be complimented by online advertising and a Facebook competition.
A #SnackHolidays promotion with the tagline "plane tickets so cheap you can buy them like a snack" is also part of the new campaign; this element sees air tickets to Dublin on sale on a new cereal bar for just €40, which includes a QR code to retrieve the ticket inside the wrapper.
It is estimated that as many as 19 million French citizens will have viewed one of Tourism Ireland's various promotional campaigns. Such campaigns have featured the Wild Atlantic Way and the Causeway Coastal Route on the main French TV channels this spring.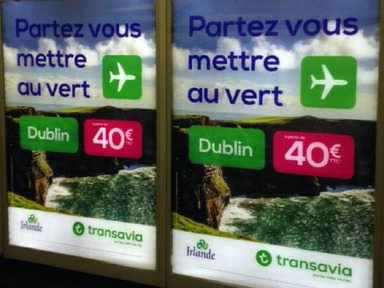 Séverine Tharreau of Tourism Ireland France welcomed the initiative by stating:
"2014 was a record year for French visitors to Ireland and Tourism Ireland is determined to ensure that tourism growth continues… 2015 has got off to a positive start, with the most recent CSO figures showing growth of 26% in French visitors to Ireland for the first quarter of 2015."