Ireland is known for its beautiful driving routes, ideal for self drive tours such as the famous Wild Atlantic Way, which stretches 2,500 km through nine counties and three provinces in Ireland. The ideal Ireland vacation, there are many train routes, allowing you to sit back, relax and enjoy the many wonderful sights Ireland has to offer. Rail tours can frequently be combined with bus and escorted tours ensuring the frequently visited site of Ireland are not missed out such as Dingle Peninsula and the Ring of Kerry. Popular tours with all ages including the Over 55's, here are some of the top scenic rail tours Ireland has to offer: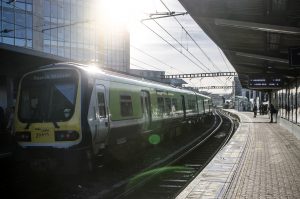 At just 24 minutes long, the Cork to Cobh train route is one of the shortest train routes, however it explores many scenic wonders, greenery and coast including Fota Wildlife Park, Carrigaloe before entering Cork's famous town Cobh which is steeped in history being the last departure port fo the RMS Titanic in 1912.
Another popular train route is the popular Dublin to Belfast train journey. The stunning views from the Viaducts are the scenic focal point along this route, located
just after Malahide in Co. Dublin. One of these viaducts crosses the River Boyne in the town of Drogheda and the other is the 18 arch Craigmore viaduct which stretches about a quarter of a mile long through county Armagh in Northern Ireland.
On the Dublin to Galway train journey enjoy spectacular views of the boggy midlands and the famous Iron Railway Bridge over the River Shannon in Athlone which is a well known engineering wonder, built in 1850. Just before this magnificent train journey ends, enter the small quaint town of Oranmore and enjoy the spectacular views along the marvellous coastal stretch along Galway Bay. On a clear day enjoy views, visibility stretches as far as the hills of the Burren.
Another short but wonderful train journey is the route from Dublin to Greystones. Enjoy cliff edge breathtaking views of the Irish sea along this spectacular route. The train passes by Aviva Stadium and the stunning coastal area from Bray to Greystones.
Whatever route you decide to take, a rail tour will help you get the very most of your time in Ireland.