For those seeking a honeymoon in Ireland, the Emerald Isle is the perfect place for a romantic trip to start your life together. With heaps of culture, history, light adventure and beautiful scenery it will guarantee an unforgettable experience which will stay with you forever.
Picturesque Ireland is the preferred choice for many newly wed couples dreaming of a honeymoon in a serene setting. Choose between luxury Irish castles, modern cities such as Dublin, Ireland's capital city or the sheer remoteness and beauty along the Wild Atlantic Way coastline. Ireland is easily explored on a self drive tour where you can hop in your rental car and drive independently and flexibly.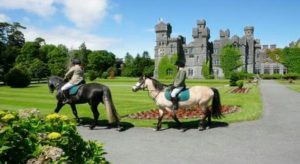 Ireland offers a magical adventure which is sure to enchant you. At Discovering Ireland Vacations, we have put together some of the main reasons to consider an Ireland honeymoon.
Stay in a restored castle….fit for a King or Queen
There is reported to be more than 30,000 castles and castle ruins in Ireland and many of them have been fully restored as luxury hotels. Ashford Castle is a popular choice for honeymooners. The 800 year old five-star Ashford Castle is not only beautiful and luxurious but it is also set on Ireland's largest lake in the village of Cong, about an hour from Galway city. Other popular castle options include Dromoland Castle in County Clare, Ballynahinch Castle in County Galway in Connemara and Castle Leslie in County Monaghan to name but a few.
Ireland's Beautiful Natural Setting
Travelers across the world are drawn to the countries natural beauty and it's serenely beautiful setting. The calm solitude and the peacefulness found in Ireland is just one reason why Ireland should be top of the list as a honeymoon destination. Plan a luxury retreat in a quaint cottage in the midst of solitude in a remote area of Ireland or book a majestic castle for a unique honeymoon. There are thousands of beautiful, scenic places to enjoy in Ireland from stunning coastlines, the Cliffs of Moher, Connemara, the beautiful Ring of Kerry and the cosmopolitan city of Dublin.
Rich Ancient History
Ireland has a rich and ancient heritage. The ancient history of the country makes it alluring and Ireland's history spans across different eras and relics of those periods are still to be found throughout the country. Explore the Book of Kells in Trinity College in Dublin, The Rock of Cashel and Glendalough in Wicklow to name but a few historic attractions. Glendalough is home to one of the most ancient monastic sites in Ireland. The early Christian monastic settlement Glendalough was founded by St. Kevin in the 6th century and from this developed the Monastic City. Most of the buildings in the settlement that survive today date from the 10th through 12th centuries.
A Wide Range of Activities
Ireland boasts many lakes, making fishing a popular activity, and its miles of stunning coastline means that there are dozens of surfing, paddling, snorkeling, and diving opportunities suitable for even the most amateur sports person. Quiet country roads, lanes and parks are perfect for biking and there are plenty of trails perfect for amateur horseback riding. Additionally dozens of mountains, hills and walking trails are perfect for both hikers and walkers of all fitness levels. There are an abundance of Irish traditions such as falconry as well which involves flying a hawk as you walk through the woods.