The happiness of the big day is still in the air and the love makes everything magic to keep dreaming about the future together….
There is no better place than West Cork to make you feel these emotions. The sea, the wind, nature, and the landscape create a fairy tale scenario for an unforgettable honeymoon in Ireland.
West Cork offers stunning places to see, amazing food to try, colorful little villages and beautiful beaches where you are surrounded by nature.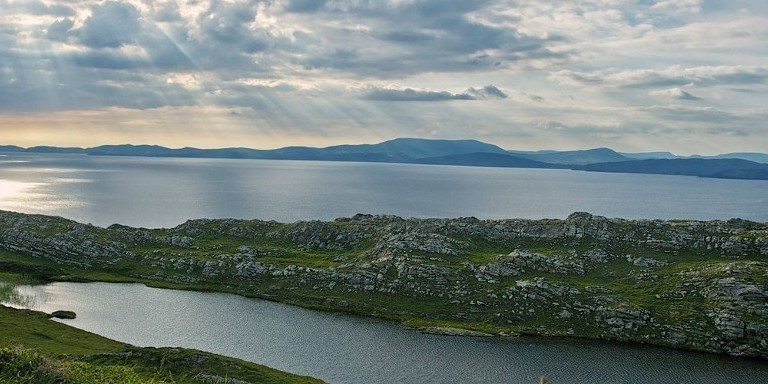 Bantry Bay
Breathtaking routes, the lovely little villages, wild islands, and historical mansions, can give to your honeymoon adventure and romance.
Must see is the Bantry House, a historical mansion famous for its gardens.
Here you can walk hand in hand discovering surrounded by exotic flowers and classic sculptures, sit on a bench and admire the stunning view of the ocean while a gentle breeze caresses your face…
The lovely village of Bantry, located in the Wild Atlantic Way, is a little gem between sea and mountains, from here you can go to the north part of West Cork, reaching the Beara Peninsula or south to Barley Cove and Mizen Head. In both cases, the coastal route is an incredible fusion of sea, mountains and unspoiled nature.
Beara Peninsula
Best explored on a self drive tour of Ireland, this scenic route brings you from the mountains to the sea, where Bere Island, Dursey Island and Garnish Island, considered the Ireland Garden Of Eden, are waiting to be discovered.
These islands can be reached by ferry or, in case of Dursey Island, through a cable car, the only one in Ireland. Peaceful oasis, these are the perfect places to experience the real taste of Ireland, enjoying the tranquility for a romantic honeymoon.
The little seaside towns of Castletownbere and Allihies, are the starting point of incredible hiking routes for who wants something more adventurous, while in Kenmare you can try local seafood restaurant and stay in luxury hotels.
Barley Cove and Mizen Head
Sand dunes, crystal water, the sound of the waves and the breeze makes Barley Cove an incredible place to spend a day of your honeymoon, especially during the summertime.
The lovely accommodation in the area are the perfect nest of love for who is just married. Is there something more romantic than the sound of the ocean?
From the tranquility of Barley Cove beach to the wild south-westerly point of Ireland of Mizen Head, your honeymoon Ireland vacation will be full of strong emotions.
High cliffs, waves that crash against the rocks, the thunder sound of the ocean, Mizen Head is an authentic experience for a honeymoon that takes your breath away.