Fáilte Ireland have just revealed its tourism plans for 2020 which is based on five key action points which will challenge the economic period the country is entering.
It's aim is to invest 6 million in a new domestic and Northern Ireland marketing campaign with the aim of attracting more people on Ireland tours and short break domestic trips including golf vacations.
There is also a further 12 million earmarked for 25 new and enhanced visitor attractions throughout Ireland. Much of the investment will be focused on regional areas in a bid to help drive holiday makers and group vacations to lesser known areas and attractions.
Ireland and Northern Irish holidaymakers account for 56% of all trips to Ireland and 32% of all visitor revenue in Ireland, stated Niall Tracey, Fáilte Ireland's Director of Marketing. Staycations in Ireland are the bedrock to the tourism sector in Ireland.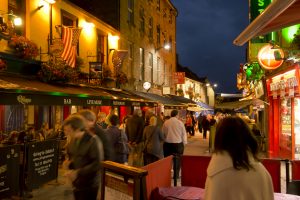 These welcome action plans come as growth in visitor numbers taking Ireland vacations slows and revenue is flattening. Additionally Brexit is looming and external shocks range from the grounding of Boeing 737 Max aircraft to overseas protests.
Minister for Transport, Tourism and Sport, Shane Ross T.D., welcomed Fáilte Ireland's plans for 2020: "Tourism is an industry that generates €7.5bn in revenue and supports the employment of 260,000 people. Fáilte Ireland's action plans for 2020 show a robustness and determination to help the industry maintain this significant level of economic activity in challenging times."
According to Fáilte Ireland CEO Paul Kelly, these plans are about "helping the industry across the regions to be Brexit ready while developing and supporting a tourism sector that offers strength and sustainability to our economy next year".
Minister of State for Tourism and Sport, T.D. Brendan Griffin, said: "The comprehensive plans launched today by Fáilte Ireland quite rightly focus on supporting tourism region by region. With Government support through Project Ireland 2040, Fáilte Ireland can continue to invest next year in visitor attractions and activities that will spread tourist activity across the regions and across all seasons."
Paul Kelly, CEO of Fáilte Ireland, said: "Fáilte Ireland's focus next year is on helping to sustain and support the tourism industry region by region. In 2020, through the government's Project Ireland 2040 programme, we will be investing over €12m to develop new and improved visitor attractions and activities for our visitors."
Paul Kelly continued: "With a new directorate of Sector Development established within Fáilte Ireland to drive the long-term development of the tourism sector and, as part of the Government's Getting Ireland Brexit Ready programme, we will be stepping up our business supports and training programmes for the industry."
Albeit a Brexit warning, Fáilte Ireland are expecting visitor numbers to increase in 2020, global tourism remains on a growth curve, and the government continues to target 11.6m visitors spending €6.5 billion by 2025.
Additionally the concepts of 'Regionality' and 'Seasonality' inform all of Fáilte Ireland's plans, and a "region by region" approach aims to encourage visitors to travel at non peak season times and to beyond crowded destinations.
70% of tourism activity throughout Ireland happens within five counties, he revealed – Dublin, Kerry, Cork, Galway and Clare – hence the development of regional vacation packages to Ireland and regional experience brands like Ireland's Hidden Heartlands and Ireland's Ancient East.
2020 will also see the expansion of Fáilte Ireland's 'Taste the Island' food series to over 1,500 autumn food and drink nationwide events, and new investment in festivals like NYE Dublin and regional St Patrick's Day festivals.