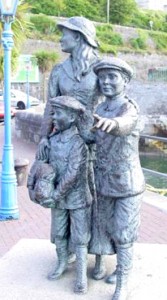 "Of the 123 Irish passengers who boarded the Titanic only 44 of them survived."
Yesterday, 5,000 people gathered in Cobh as the relatives of the poor Irish passengers who perished when the Titanic sank for a commemoration service. The services was led by Irish President  Michael D. Higgins and took place at the exact spot where the 123 passengers left in a small boat to board Titanic.
In his speech Mr. Higgins said: "We remember with respect all those who died on the Titanic and the thousands more whose lives were devastated by the loss of their loved ones in the Atlantic. We reflect on what it teaches us about the inherent fragility of human life in the face of nature"
One of the relatives in the crowd was Mary Woods, whose uncle Jeremiah Burke (19) boarded the Titanic. Mr. Burke from Glanmire, Co Cork was travelling as a third-class passenger along with his cousin Nora Hegarty (18) from Whitechurch, Co Cork. Both cousins tragically died on the ship.
Following the tribute, an ecumenical service and a recital by the St Coleman's Cathedral 49-bell carillon took place. While on your Ireland vacations this weekend, be sure to check out the Titanic themed events occurring up and down the country.