For those feeling connected to Irish roots and culture, nothing compares to the celebration of heritage that can be found by planning a traditional Irish themed wedding or by taking a honeymoon  Ireland vacation. An authentic Irish wedding ceremony is inspired by centuries of history and tradition. Learning the stories behind these traditions, where they began, and what they mean to us today, is part of what makes Irish traditional weddings so personal and special.
Many popular features of the modern wedding are direct descendants of Irish and Celtic culture. Looking forward to tossing the wedding bouquet or going on honeymoon, you can thank the Irish or the Celts for both traditions. If Irish culture and heritage are important to you, there are many traditions that can be very easily incorporated to your special day.
Celtic knots are one of the most ancient styles of art still practised today.  The connection between the endless weaves of these knots and the unbreakable bonds of love is immediately recognisable and Celtic knots are rightfully one of the most versatile decorative symbols of an Irish wedding.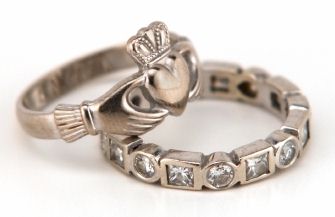 Named after a small fishing village in Ireland, the Claddagh ring is an ancient symbol that represents the three qualities of any successful marriage. Each of the three parts of the ring have a specific meaning making it a favourite of the modern Irish wedding ceremony.
Taking a vacation in Ireland and exploring the many sights and attractions has long been a tradition of honeymooners. The rugged coastlines, deserted beaches, castles and lakes have for years been a big attraction for people planning an Ireland honeymoon.