What is it about Ireland and the world renowned Irish sense of humour?
Maybe it is a nationwide sense of mirth to laugh at everything about ourselves, coined by the Irish phrase of "taking the mick", meaning having a laugh.
It is an ingrained trait that has seen the Irish through the centuries, when things don't go to plan instead of collapsing in despair we have learned to look at the funny side and laugh at the irony and stupidity of everything. Irish humour can be thought of as the ultimate in sarcasm where nothing or no one, not priests nor politicians, is too sacred to mock or to "take the mick out of".
Welcome to a land where nothing runs on time, where the transport minister heads away on a sun holiday in the middle of a 3 week freezefest, where a prominent airline considered charging people for the "privilege" of using the airline facilities during the recession, and where a former finance minister and taoiseach quotes from "Father Ted" when asked about the "serious matter" of his private finances. All in all a land where no-one takes anything seriously and a land that has spawned some of the best comedy shows, writers and comedians of all time. Comedians such as Dave Allen, Brendon Grace, Sean Hughes, Tommy Tiernan, Dylan Moran, Dara O'Briain, Ardal O'Hanlon, David O'Doherty, Meave Higgins, Deirdre O' Kane, Jason Byrne, Neil Delamare to name just a few.
For a chance to relax and lay back and witness some of this Irish sense of humour you can watch the news and the political and sporting commentary (and that's the serious stuff) or better yet why not sit down with a pint and checkout great comedy in action at the many comedy venues and pubs around the country.
However if you have the chance why not see some of the best of national and international stars in action in some of our world renowned Comedy festivals.  Here's a sample
Carlsberg Cat Laughs Festival
3rd June to 7th June 2010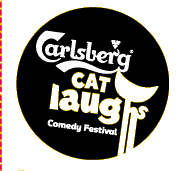 The Mother of all Irish Comedy festivals and one of the top five comedy festivals in the world, Ireland's favourite festival, The Carlsberg Cat Laughs Comedy Festival runs in Kilkenny for the June Bank Holiday.  Since it's inception in 1994 this festival has rapidly established itself as one of the best comedy festivals in the world.
Attracting a host of the best national and international stand-up comedians and comedy improvisers, the comedy festival provides for simple fun and exhilaration. Five days of fun and laughter are guaranteed with over 85 live performances in the relaxing surrounds of 14 of Kilkenny's best loved venues.
Bulmers Comedy Festival Dublin
3rd – 23rd September 2007
An upcoming rival to the more established Cat's Laugh Comedy Festival the four year old Bulmers Comedy Festival in Dublin is hot on the heels of its' predecessor in the terms of quality and growing international standing.
The Bulmers International Comedy Festival takes over the city of Dublin for an amazing three weeks from September 3rd where venues across Dublin will play host to the very best of Irish and International comedians.
Already confirmed for this years event are Jimmy Carr, Ross Noble, Lenny Henry, Paul Merton, The Panel Live, Rich Hall, Jeremy Hardy, Punt and Denis, Circus of horrors, Puppetry of the penis, Barabbas 40 songs of green and Shady Okes. Over the course of the coming weeks further acts will be added to the bill for this years line up so keep your eye out for new arrivals!
This Comedy Festival Having played host to the crème de la crème of comedic talent from the undeniable genius of Denis Leary to Multi Award winning British writer/comedian Ricky Gervais, this Comedy Festival can call itself a truly international festival.
Hallowe'en Howls Comedy Festival in Portlaoise
22 -29 October
Also in October and not to be missed the Hallowe'en Howls Comedy Festival in Portlaoise in association with Carlsberg brings over 30 top Irish and Overseas Comedians for a weekend to remember. Along with 20 top stand up shows, you'll find other attractions such as the Charity Pig Race, the Comedians Golfer of the year Awards, Festival Club. This year also sees the introduction of the Hallowe'en Howls Bus Tour of Portlaoise with top Irish Comedians acting as Tour Guides showing you their own favourite spots in Portlaoise (Not too be missed!!) Also on the Sunday of the Festival, while Liverpool play Man UTD in the Premier League the Howls have, as a treat, drafted in a few special guest commentators for this game. This weekend also offers a music trail in participating pubs in the town centre. All venues are just minutes apart with lots of accommodation within minutes of the town centre.
Tedfest 4
25th February to 7th March
Inis Mór – Thursday, 25th February to Sunday, 28th February
Galway City – Monday, 1st March to Wednesday, 3rd March
Inis Oirr – Thursday, 4th March to Sunday, 7th March
While at it's heart a fan convention for the admirers of hit Irish show "Father Ted" and not considered in the same international league as traditional Comedy Festivals, Tedfest however is a uniquely Irish comedy convention, a celebration of all things related to Father Ted one of the greatest comedy shows to come out of Ireland, and includes highlights such as The Craggy Cup, The Lovely Girls Contest (a sendup of, you guessed it The Rose of Tralee), A Priests' versus Nuns' Beach volleyball tournament, and new for 2010 – The Loveliest Horse Competition. Also look out for festival favourites Ted's Got Talent, the Gospel Brunch, Beer Garden's Hawaiin BBQ, Breakfast without Dermot Morgan and lots more..
The full festival includes events in Galway City (at the Róisin Dubh) and on two of the Aran Islands, Inis Mór and Inis Oirr (between them the real "Craggy Island" where the series was filmed). Discounted ferry tickets available to guests of Sleepzone Galway City.
Kells Comedy Festival
Friday 25th – Sunday 27th of February
Headfort Hotel in Kells hosts the Kells Comedy Festival, a full weekend of action-packed eclectic comedy, showcasing the very best in Irish comedy all under one roof. There will be acts to suit every taste. From Friday 25th – Sunday 27th of February prepare yourself for a barrel or so of laughs in a couple of venues around the town. The Headfort Arms and The Kelltic Bar will host comedy events with appearances from Apres Match and stars David McSavage, John Clerley & Pat McDonald from the newest Irish hit "The Savage Eye". Other acts include a comical trip through World Cup 1988 (I know) entitled "In High Germany" and the weekend rounds off with The Open Mike Comedy Showdown.
Irish Comedy Venues
And all around the country stand-up comedy is regularly played at the main comedy venues such as the following below as well as other local venues (hotels, theatres and pubs) up and down the country.
Battle of the Axe is on Tuesday nights 9.30 pm, consisting of Comedy, Music & Open Mic.
Ha'Penny Bridge Inn
42 Wellington Quay, Dublin City Centre,
Vicar Street
58-59 Thomas Street, Dublin 8, County Dublin,
The Laughter Lounge
Basement 4 – 8 Eden Quay, O'Connell Bridge, Dublin 1
The Laughter Lounge,
6 Odyssey Pavilion, 2 Queens Quay , Belfast BT3 9QQ
The Laughter Lounge
Downstairs at The Forum, The Glen, Waterford
City Limits,
Coburg Street, Cork
The Last Laugh Comedy Club,
Trinity Rooms Limerick , The Granary, Micheal St, Limerick