This October sees the 35th annual Cork Folk Festival take place in Ireland's southern capital, Cork City. The festivals will see Cork welcome some of Ireland's finest folk and traditional Irish musicians will be joined by top class folk artists from abroad between 2nd and 5th of October.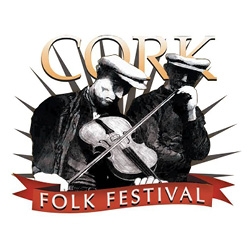 The gathering is a four-day event and is gradually establishing itself as one of the most anticipated folk and traditional music events in Ireland with a steadily growing following across Europe. Performances are scheduled to take place in dedicated concert halls, music venues, in over 30 bars and on the streets of Cork.
The Cork Folk Festival features numerous concerts and gigs with a mix of international, cutting edge and well-known artists in addition to a series of informative lectures, workshops, children's events, and traditional set dancing which are sure to engage visitors of all ages during a trip to Ireland's second city of Cork.
The event has a strong focus on local Cork City, Sliabh Luachra and Cúil Aodha music and song so visitors can expect a whole host of polkas, slides and harrier ballads!