Ideal for those planning a vacation in Ireland this January, the popular and world famous Trad Fest is set to take place from the 24th until the 28th of January in Ireland's capital city of Dublin. A world celebration of folk and traditional music, Trad Fest is set to take place in the iconic and popular Temple bar area in Dublin city centre.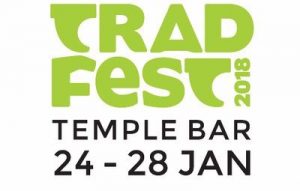 Trad Fest has been running for over 10 years now in Ireland's capital city of Dublin and it platforms Irish traditional music in a week-long festival in the heart of the Irish capital city annually. Ideal for those planning a trip to Ireland, Dublin is the place to be this January!
Many of the music events will take place in Dublin's historical and iconic buildings including City Hall, Dublin Castle, St Michan's Church, House Of Lords, St Patrick's Cathedral, St Werburgh's Church  as well as Whelan's and Rathfarnham Castle.
The Waterboy's Steve Wickham, Martha Wainwright, The 4 of Us, Maria Doyle Kennedy, Judy Collins, Big Country, Wallis Bird, Andy Irvine and Donal Lunny are among the headliners of this year's Trad Fest. Additionally the festival features sold-out shows by Brian Kennedy and Moya Brennan.
Former member of the Dubliners, Eamonn Campbell who passed away last October will also be honoured at this month's Trad Fest.
A range of family concerts are also set to take place at the Print Works in Dublin Castle as well as Child Vision Petting Farm in Temple Bar Square.
Visitors can also take part in a song writing master class with the talented John Spillane and there will also be a genealogy workshop where visitors can explore their heritage and roots.
With numerous music events taking place during the festival as well as a vast array of restaurants in north Dublin to choose from, a trip to Dublin's fair city this January is a must!