The millennium celebrations in honour of Irish legend Brian Boru and the Battle of Clontarf which took place back in 1014, continue to gather momentum with more events and festivals happening over the next few weeks and months in honour of the legendary Irish historical figure. One festival to note taking place in a few weeks time is Feile Brian Boru, an annual celebration of the life and times of Brian Boru.
Now in its 21st year running and held annually in the neighbouring towns of Killaloe in County Clare and Ballina across the border in County Tipperary, Feile Brian Boru is a festival that celebrates the life and times of the regions greatest son Brian Boru of which both towns have been associated, Killaloe in particular being his birthplace and temporarily reigning as the capital of Ireland during his rule as High king of Ireland (1002-1014). This proud association with the legendary High king of Ireland is celebrated in a lively and family friendly festival which runs from Thursday 3rd July to Sunday, 6th July.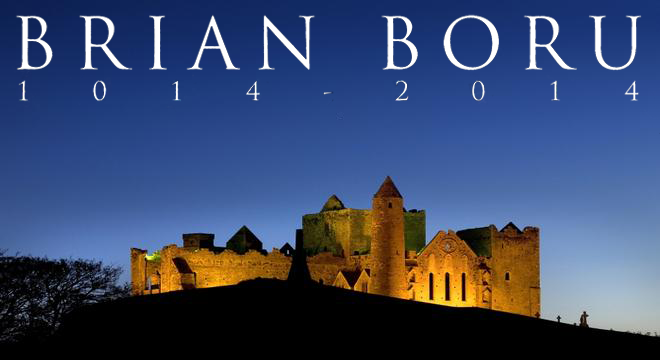 And this years running, in the 1,000th year anniversary of Brian Boru's death at the Battle of Clontarf, it is set to take on greater significance. Over the four days of the feile (Gaelic word for festival) the two towns and their communities engage in a celebration of past and present with a wide programme of events, activities and shows, many of which are free and open to everyone. The list of events and activities on offer appeals to everyone on an Ireland vacation no matter their age or hobby. For visiting families there is a variety of family friendly and children's events (all free) planned including many children's workshops and art competitions. Special features such as an Exploration Dome (a mobile planetarium, bringing the wonders of the universe to the heart of the Féile) and Teenzone also add to the choice of entertainment options for kids. Grown ups may be interested in the garden fete, in perusing through a farmer's markets and craft markets, in checking out the many special art exhibitions and events, shows and street entertainment. And that is just for starters throughout the four days.
There will also be many sporting events and water based events (including Viking Long Boat Trips on the River Shannon) open to the public as well as shows for animal lovers. In the many pubs and venues of choice many evening and day events have been planned among them pub theatre, a special Feile Brian Boru Table Quiz; live concerts; music and dance. On Saturday night the skies above both towns over the Shannon will be lit up with a stunning fireworks display. And that's before we turn to the historical figure that plays prominently in the festival: Brian Boru. Being in honour of the legend of Brian Boru the feile has a number of related historical events and activities planned with plenty of tours and sights to see for the history buff including a look at Brian Ború's historical encampment and a number of historical guided tours of places relevant to the legend.
With so much to offer people of all interests and age groups from people genuinely interested in exploring and investigating the legend and history of Brian Boru to people looking for a fun and eventful day out, this festival is worthy of note on ones weekend holiday calendar, as wherever ones interest may lie one is bound to be entertained by the vast array of events and shows on offer over the four days. And this feile is just one way for people to get into the collective spirit of celebrations honouring the legend of Brian Boru, a thousand years after his death at the Battle of Clontarf.