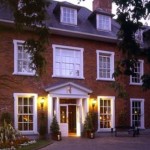 I live about an hour from Cork city and wouldn't normally consider it as a place for a weekend break but we had visitors and as it turned out Cork was their destination of choice. We decided to give Hayfield Manor a try and we couldn't have been happier. After a day spent exploring the rugged beauty of west Cork and the pretty fishing town of Kinsale we arrived to the very quiet location in which the hotel is situated close by the pretty campus of University College Cork.
Check in was smooth, professional and friendly. We were taken on a tour of the hotel by Bart,the one man tour de force concierge/doorman/bus boy/tourist information office. He is special. Each time we met him he had a word for us and nothing was too much trouble. It's like being looked after by your favourite uncle. He is a gem and if you could bottle him the hospitality industry would make you a very rich person indeed. The two rooms we had were similar in size, one facing the garden at the rear one facing front both in the main house.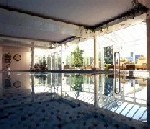 The rooms were very comfortable with bathrobes and slippers provided and decent sized bathrooms. Ours had a separate shower and bath. The beds were very comfortable which made for a very good night's sleep. We spent quite a while enjoying the pool, steam room, hot tub and massage chairs. Total relaxation. We went again before breakfast the next morning.
Had a really nice meal in Perrotts bistro, we ate early because we were going to the theatre but the room had a lovely appearance and I'm sure a great atmosphere with more people in it. We took a taxi into and out of the city centre to go the theatre no more than ten minutes each way.
We had a great breakfast in the morning and although the buffet is not as large as at some hotels I've stayed, the quality of everything was excellent and we couldn't have asked for more. The staff were great and because the hotel is not large it has a nice intimate atmosphere. Came away feeling completely relaxed and wished we could have stayed longer.