Our very own Padraig Harrington joined an elite club yesterday after successfully defending his British Open title at Royal Birkdale, comfortably holding off the late challenge of Britain's Ian Poulter.
Harrington who hails from Dublin produced a magnificent s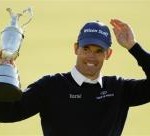 econd shot at the 17th to seal victory as he retained the famous Claret Jug he won after a playoff against Sergio Garcia last year.   He landed his second shot within three feet of the pin. "The five-wood is my favourite club in the bag," he said. "I used the downslope in my favour and it came out nice and low. Once I hit it, it was perfect. It's one of the few times I think I've heard my caddie say 'Good shot' to me before the ball is finished. I would have been quite happy with it on the green and take my chances with two putts."
He stopped coming down the 18th on Sunday to share the moment with overnight leader Greg Norman, who knows this path all too well.
Doug Ferguson reports further
Celebration for one, sympathy for the other.
"I did say to him coming down 18 that I was sorry it wasn't his story that was going to be told," Harrington said. "I did feel that, but I wanted to win myself. In this game, you have to take your chances when you get them."
Harrington seized his opportunity by smashing a pair of fairway metals into the par 5s that carried him to a 32 on the back nine of blustery Royal Birkdale and made him Europe's first player in more than a century to win the British Open two years in a row.
"Obviously, winning a major puts you in a special club," Harrington said after closing with a 1-under 69 to win by four shots over Ian Poulter. "Winning two of them puts you in a new club altogether."
Norman got a chance no one saw coming.
Still on his honeymoon with tennis great Chris Evert, at 53 only a part-time golfer with no expectations, the Shark found himself with a two-shot lead going into the final round and still one shot ahead with nine holes to play.
It ended like so many other majors for Norman — a quick succession of bogeys, the clutch shots belonging to someone else. He made eight bogeys in gusts that reached 40 mph, closed with a 77 and tied for third.
"Where does it rank in those? Probably not as high as some of the other ones," Norman said of the six other times he lost a 54-hole lead in a major. "Quite honestly, I'm sure I surprised a lot of people."
So did Harrington.
The 36-year-old Irishman injured his right wrist eight days ago, and it was so sore that he could only practice for nine holes on Tuesday and for three swings on the eve of his title defense.
He gave himself a 75 percent chance of starting, 50 percent of finishing.
Turns out that wrist was strong enough to hit all the right shots. Better yet, it was strong enough to lift the claret jug.
"It was a great distraction for me," Harrington said. "It took a lot of pressure off me. It took a lot of stress off me. The fact that I didn't play three practice rounds like normal for a major was a big bonus. I was very fresh going into the weekend, and this 36 holes was a real battle."
Harrington first had to take the lead from Norman, which he did on the par-3 12th when Norman missed a 10-foot par putt. Then came a late charge from Poulter, who made a 15-foot birdie on the 16th and saved par with a 15-footer on the final hole for a 69 that looked like it might be good enough to win.
But the Irishman responded with clutch shots of his own. He hit a 3-wood into the wind to 40 feet on the par-5 15th and got down in two putts for birdie, giving him a two-shot lead. Standing in the 17th fairway, still aware that Norman could make eagle and stay in the game, Harrington hit a 5-wood that bounded onto the green and up the ridge, stopping 4 feet away for eagle.
That gave him a four-shot lead, and he knew it was over when his tee shot found the 18th fairway.
What a change from last year, when Harrington made double bogey on the 18th hole, got into a playoff only when Sergio Garcia couldn't save par, and couldn't celebrate at Carnoustie until a testy 3-footer for par on the last hole of overtime.
"I enjoyed the claret jug so much I didn't want to give it back," Harrington said.
He finished at 3-over 283, becoming the first European since James Braid in 1905-06 to win the Open in successive years.
It was his first victory since the British Open last year, and it could not have come at a better time. Harrington moved to the top of Europe's Ryder Cup standings, and the victory moved him to No. 3 in the world ranking behind Tiger Woods and Phil Mickelson.
"I'm quite enjoying this," Harrington said, cradling the claret jug. "I don't think I'll get down off the stage."
Norman played a familiar role as the tragic figure.
He lost his two-shot lead after the third hole and wound up in a tie for third with Henrik Stenson, who shot 71. The 77 was one shot better than the last time Norman led a major, closing with a 78 in the 1996 Masters.
"I walk away from here disappointed, but with my head held high, because I hung in there," Norman said.
Poulter thought he could bring England its first British Open since Nick Faldo in 1992, playing bogey-free over his final 15 holes. He went to the practice range in case of a playoff, but put his clubs away when he saw that Harrington made eagle on the 17th hole.
"I can only do what I can do," Poulter said. "And I done my best."
Norman tried to keep alive his hopes with a 35-foot par putt on the 14th, and a shot from a pot bunker that made him spin backward, turning to see the ball land 4 feet away at the 15th for his only birdie of the day. Harrington, however, didn't back down.
"Padraig played brilliantly today, even though he tried to let it get away in the middle of the round," Norman said. "He came back and performed brilliantly, and he finished like a true champion."
The leaderboard featured a familiar name, missing an "s."
Chris Wood, a 20-year-old amateur from England, closed in on the lead until three straight bogeys on the back nine. He finished with a 72 and tied for fifth at 10-over 290 with Jim Furyk (71).
"It's been the best week of my life," Wood said.
Norman felt much the same, except for the final day.
What an amazing week for the Shark — spending his honeymoon in Skibo Castle, showing up at Royal Birkdale to tune up for the Senior British Open and Senior U.S. Open, then feeling those old competitive juices.
Fans perched themselves atop every sand dune to see if Norman could pull off a victory that would have ranked among the most stunning in golf, from Jack Nicklaus winning the Masters at age 46 to Ben Hogan returning from a life-threatening car crash to win the U.S. Open.
But instead of a fairy-tale ending, he delivered a rerun of opportunities lost in the majors.
Norman hit into a pot bunker on the first hole and made bogey. He missed the green left on the second hole and made bogey. His tee shot buried in the right rough on the third hole for another bogey. And he had to make an 8-foot putt to save bogey on the sixth.
Just like that, a two-shot lead over Harrington turned into a two-shot deficit.
Harrington gave him one last chance with three straight bogeys to close out the front nine. That was the last bogey he made.
"This year is more satisfying," Harrington said.