Following on from the great interest we have had in Irish Surnames,  we bring you the latest Irish name O'Doherty again kindly supplied by Eddie from Araltas.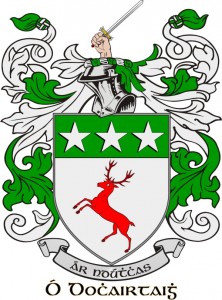 Doherty is an example of a surname in which the resumption of its prefix 0 during the recent century has been very marked. Comparing the statistics of 1890 with 1955 we find that in the former year in Ireland out of 465 births registered only eight i.e. less than two per cent were O'Doherty: at the present time the proportion is approximately fifty per cent. i.e. those calling themselves Doherty and 0'Doherty are about equal. Alternative spellings such as Dogherty and Dougherty are rarely met with nowadays.
In Munster Doherty is often not Ó Dochartaigh but Ó Dubhartaigh: this is more correctly anglicized Doorty in west Clare.
In Oriel Dorritty is an occasional synonym.
Many Irish surnames in their anglicized forms present problems in regard to their origin. Doherty, however, is simple and straightforward. In Irish O Dochartaigh, which is said to be derived from the word dochartach meaning obstructive, this large and powerful sept is of the same stock as tbe 0'Donnells. Originating in the barony of Raphoe, Co. Donegal, the 0'Doherty chiefs extended their territory till they became Lords of Inishowen in the fourteenth century, but they were greatly reduced as a result of the ill-timed rebellion of Sir Cahir O'Dougherty in 1608. The great majority of the present day bearers of the name live, or at least were born, in Donegal or the areas adjacent to that county. Their numbers give them the fifteenth place in the list of the commonest names in Ireland.
However you choose to spell Doherty, and there are at least half a dozen versions apart from with or without the O, it remains a Donegal name. It is believed to be one of the oldest hereditary surnames, and translated from the Irish it is thought to mean obstructive. Ranking fifteenth in the list of 100 most common Irish surnames, the motto on their coat of arms is Ar nDúthcas (for my inheritance). According to the O Dogherty pedigree of 5 November 1770 in the Genealogical Office in Dublin, they are descended from one of the eight sons of Niall of the Nine Hostages, the legendary chieftain who was killed jousting in France in AD 405. Nial is reputed to be responsible for bringing the young Patrick to Ireland as a slave. Four of Niall's sons settled in Meath. The eldest, Laogarius, was Ireland's first Christian monarch, surely the very king who saw Patrick light his Pascal fire on the Hill of Slane. Niall's four younger sons went north to Ulster and were known as the Hy Nialls. They reigned there for over 600 years until 1002, when Brian Boru assumed the high kingship. The names of the descendants of Niall are renowned in Irish history. They include the O Neills who were princes and earls of Tir Eogan, the O Donnells, princes and earls of Tirconnell, and the O Melaghlins, kings and princes of Meath. The O Dohertys who descend from Niall owned the Inishowen Peninsula until, to quote their genealogical document, "the accession of King James I to the throne of England and Ireland in 1603, at which period six counties of Ulster were escheated to the Crown and granted to Scotch Planters". From the eighth to the seventeenth centuries there was a constant power struggle between the clans and in the twelfth century, against the English invaders – few Normans penetrated as far as Ulster. For a while the O Dohertys maintained good relations with the English. Cunningly they used them to play O Neill against O Donnell. Many times they preserved their land, or their lives, by pretending allegiance to Henry VIII, or Elizabeth I.Thus they acquired their knighthoods.
Shane Mor O Doherty was knighted in 1541. His son, Shane Og, who was knighted in 1585, was the father of Cahir, the most notorious of all the O Dohertys. Cahir O Doherty (1587 – 1608) was only 14 when his father died and there were many family quarrels before Cahir was finally acknowledged as Lord of Inishowen. He has been described as extremely tall and handsome and very brave in battle. Still only in his teens, he was knighted by Mountjoy for military bravery and, in 1603, was invited to visit the Court in London. On his return to Ireland he was made an admiral of the new city of Derry. Intrigues enmeshed him and he was accused of treason, which provoked him, catastrophically, into the madness of attacking Derry, which he mercilessly burned. Retribution came swiftly; a strong Crown force was dispatched and he was killed, and his head was sent to Dublin to be exhibited.
Cahir O Doherty earned himself the title "that audacious traitor" and his actions opened the floodgates for the plantation of Ulster and the tragedy which continues into the twentieth century. Cahir's was the end of the O Doherty lordship of Inishowen. The year before his death, the northern earls had sailed away from Lough Swilly to spread their battered wings all around Europe. Cahir's brother Sean O Doherty soon followed, and his descendant, Dr Ramon Salvador O Doherty, who lives in Cadiz in Spain, is 11th in direct line from the Lords of Inishowen. In July 1990, he was ceremonially inaugurated as 37th O Doherty chieftain.
The Keep, all that remains of the fine castle built by the O Dohertys in 1430, still stands at Buncrana, in a ruggedly charming area of Donegal between Lough Swilly and Lough Foyle. A glance in the telephone directory will confirm that the O Dohertys continue to thrive around Inishmore. Across the sea in Scotland, where they fled to escape the persecutions following the plantations, there are also many of the O Doherty name. Following the disaster of Derry, many of them went still further afield.
John Doherty (also sometimes Dougharty) (1688 – 1755), settled in Worcester in England, where he had a school for over fifty years. Mathematics was his speciality and his many published works include A Way of Finding Mean Times of the Moon's Phases and Eclipses. A man of some distinction, he is buried in the cloisters of Worcester Cathedral.
Thomas Doherty (d. 1805) was a lowly countryman who went to England and found work clerking in a legal o6ice. During his sixteen years there he studied law, and made an important collection of precedents and notes on legal cases which were so remarkable he was made a member of Gray's Inn, the legal institution in London. He devoted himself so obsessively to his vocation, and to editing a series of books on the duties of the Crown Court Assistant, that he utterly neglected his family, a nineteenth-century example of a workaholic.
John Doherty (1783 – 1850) graduated from Trinity College, Dublin, and in the course of time reached the eminence of Chief Justice of Ireland. His reputation as a judge was surpassed by his performance in the House of Commons in London, where his impressive appearance and sharp Irish wit were much appreciated. So also was his connection, on the maternal side, with a former Prime Minister, George Canning. Although John Doherty and Daniel O Connell were in accord as regards the granting of Catholic emancipation, politically they frequently differed bitterly. When the House of Lords was almost within his grasp, over-optimistic investment in the railway industry lost him his fortune and closed his career. Kevin Izod O Doherty (1823 – 1905), while studying medicine in Dublin, wrote articles for the Nation, mouthpiece of the Young Irelanders the protagonists of Home Rule. He was tried for treason and was deported to Van Dieman's Land (Tasmania). He was eventually pardoned and he returned to Dublin where he completed his medical studies. In 1862 he returned voluntarily to Brisbane, Australia, where he practised successfully for 23 years and was also a member of the Queensland legislative assembly. On a visit to Ireland he was so well received that he was elected Member of Parliament for North Meath, but when he returned to Brisbane three years later he found his medical practice had disappeared. He died a poor man.
William James O Doherty (1835 – 68) was a Dublin-born O Doherty who made a name as a sculptor in London. He had the good fortune to begin his studies in the Royal Dublin Society, with its government-sponsored school of art. He soon abandoned painting for sculpture and progressed so rapidly that by 1857 he was exhibiting in London's Royal Academy. He transformed his name to Dogherty, altering the spelling several times. His works were commissioned by the nobility and various institutions. He went to Rome to execute an important commission and to study but, alas, while on a visit to Berlin his promising career was cut short by an early death at the age of 33. The Dohertys were certainly varied in their pursuits.
At the beginning of this century, Reggie and Laurie Doherty were stylish tennis champions who graced the centre court at Wimbledon and wrote about the game.
Learn more on how you can visit the places of your ancestors on one of our many excellent ireland vacation packages or read more on the O'Doherty name at Araltas