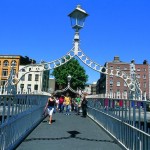 On the 2nd of January 2008 Dublin lost one of its landmark hotel with the closure of the Burlington Hotel after 35 years in business. The "Burlo" which it was more commonly known as to its loyal customers was one of the most luxurious places to stay in Dublin when it opened in 1972 and also had the city's first indoor swimming pool. This 4 star Hotel was extremely popular amongst tourists, GAA supporters and business people.
One of the biggest conference venues in Dublin, it was even great place just to go and sit in the lobby with a cup of coffee and watch celebs pass!. They have had quite a few celebs staying in the Hotel over the years from Bono and the Edge (for all you U2 fans) to Bill and Hilary Clinton.
This 500 bedroomed Hotel was sold to a property developer and is expected to be converted into office and apartments, leaving 447 employees redundant.
The closure of the Burlington along with the Berkely Court Hotel and Jury's Hotel both of whom also closed their doors in 2007, means the loss of over 1000 hotel bed in Dublin in the last number of months. This loss will undoubtly have an impact on Dublin's ability to accommodate the large number of visitors who travel there for vacation, conferences, weekend breaks, concerts and sporting events.
Claire Sweetnam