Similar to how Dublin has become a digital capital for large companies such as Facebook, LinkedIn and Google, the Mid West region of Ireland has it's sights on becoming the sports tourism capital of Europe. This title would be a major boost to the local economy in the Mid West region of Ireland due to the fact that the spend of a sport tourism visitor planning an Ireland vacation is estimated to be double that of a normal tourist.
The sports tourism industry and sports related Ireland tours generate approximately €800 million annually for the Irish economy. Plans on how the Mid West region has the potential to become the sports tourism capital of Europe will be discussed at the up and coming European Sports Tourism Summit, due to take place in Thomand Park on Thursday May 15th 2014.
"It's a meeting of the best international sporting minds with a view to positioning the Mid- West as a centre of excellence for sport tourism.  We should gravitate to it naturally given our long history and success in the sporting arena. County Limerick is known as a leader in sport education, for its experience in hosting major sporting events and even for nurturing sporting talent so why can't we lead out on sport tourism?" said Ger Holliday, partner at BDO Limerick and business advisor to the inaugural European Sport Tourism Summit.
"We will be working with BDO in developing a fully integrated sport tourism offering bringing all respective industry knowledge together to deliver a strong service alliance," said Keith Wood, former Ireland rugby international. He also believes that the €800 million sport tourism sector in Ireland can be a multiple of that if it is approached in a more strategic and coherent manner.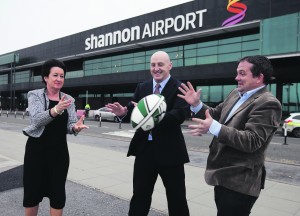 Another well-known sporting figure, County Clare hurling manager Davy Fitzgerald, the all-star goalkeeper is calling on all sectors to play their part in selling Ireland to foreign companies expanding into Europe, saying: "We need to use what we have. We need to tap into the people around the world who are connected to Ireland, who have Irish backgrounds and show why Ireland is a world leading tourist destination."