Tourism Ireland is seeking to grow the number of visitors from Australia enjoying a holiday in Ireland by almost 20% with the launch a new three year promotional strategy.
It is hoped that visitor numbers will reach as many as 200,000 by 2017 as a result of the campaign. It is estimated that the number of visitors who have made the trip to Ireland from Australia has grown by more than 40% since 2010, reaching 180,000 last year.
Tourism Ireland's new strategy involves various elements such as focusing on their 'best prospect' audiences, which are categorised as both 'culturally curious' and 'social energiser' Australian holidaymakers.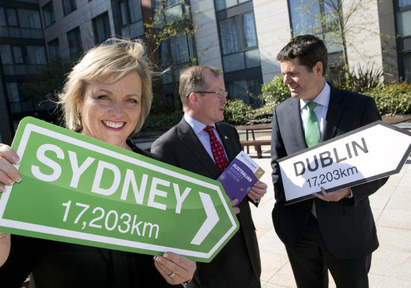 To shed more light on these specific market segments… the culturally curious tend to be discerning travellers who are seeking to expand their horizons by exploring landscapes, heritage and culture while social energisers are those in search of new experiences in unique locations.
To ensure Ireland stand's out from the crowd, Tourism Ireland's strategy will position the island of Ireland as a "vibrant, fun, somewhat wild place" on the edge of the European continent.
The organisation will highlight the many Ireland vacation packages available which make the island easily accessible, with frequent, one-stop flights; and is a low-stress, familiar place which is a perfect starting point for a European vacation.
With some unique experiences for visitors to enjoy such as the Wild Atlantic Way and Ireland's Ancient East as well as attractions such as the Guinness Storehouse, it is hoped that Ireland can compete with some of the iconic attractions of other European destinations.