Now in its second year the Ortús Chamber Music Festival will once more showcase some of Ireland's up and coming classical musicians. The festival is based in Cork City and includes artists such as Ruth Gibson and Brian O'Kane which have already made a name for themselves on an international stage.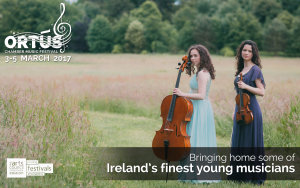 A series of concerts will be performed in and around the city.  The aim of the festival includes nurturing a wider audience and increasing awareness of some up and coming Irish composers. Important figures and educators in the Irish classical music scene such as renowned Violinist Adrian Petcu (Board of Directors at the National Youth Orchestra of Ireland & Music Network) are supporting the festival.
Concerts will be held from the 3rd of March in the UCC Aula Maxima, the Midleton St.John Baptist Church and in the Sirius Arts Centre in Cobh. You can find all the concert information here: http://ortusfestival.ie/concerts-2017/
Additionally there will be a number of outreach projects. Those include a series of open questionnaires for the musicians, school performances and short concerts in various unexpected locations such as the train station and even the Cork airport. So don't be surprised if you are welcomed by a String quartet as the first thing landing in Cork in case you are planning your next vacation to Ireland.
You can find all the information about those events here: http://ortusfestival.ie/outreach/