Begining on July 28th, Galway will host its annual 7 day world renowned horsing racing festival. The 2008 Galway Races promise to be a real spectacle in the Irish Horse Racing calendar and will attract some 200,000 race-goers to the Ballybrit venue over the course of the event.
The Festival has established itself as the pinnacle in Irish Racing and arguably the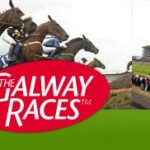 most lavish, colourful and sociable fixture in the Irish Racing Calendar. Its not only the quality of racing that sets Galway apart, but the coming together of racing fanatic and party goer combine to make the atmosphere something that can only be experienced to fully appreciate. True Irish Craic is guaranteed not to mention the odd one or a dozen pints of Guinness!
The excellent racing, oyster bars, champagne and beer tents, jazz bands, trade stands, race card competitions and even a best-dressed lady competition on Thursday, combine to ensure there is something for everyone and be part of what is truly an unforgettable experience.
Prepare early and don't be disappointed:
With close on quarter of a million people expected to attend this year, I strongly advise you to book your Galway Accommodation early before a tent is your only option 🙂
Directions to the Galway Races can be found here on DiscoveringIreland as well as some testimonials from Guests who have experienced it for themselves.
For those planning a hen or a stag party Galway has long been one of the countries popular choice for this celebration and there is no better festival to tie in with a trip to Galway than the Galway Races.
Be sure not to miss it in 2008.