Ireland's most popular Roots/Americana festival returns to the city of Kilkenny for its 18th instalment with a host of acts from both home and abroad at venues throughout the city. The Kilkenny Roots Festival takes placed between the 29th April and 2nd May 2016.
The Kilkenny Roots Festival first took place back in 1998 and ever since has brought the very best in Roots music to Ireland including many acts that have gone on to be global hits.
The 2016 festival promises to be another hit with music fans with a mix of new and well known artists scheduled to take to the various stages around Kilkenny City. Some of the previous artists to have  made their debut at the festival in Ireland include Alabama Shakes, Calexico, Sturgill Simpson, John Grant, Ryan Adams and Ray LaMontagne.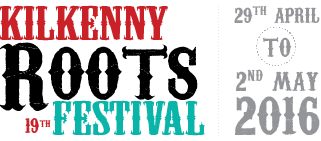 The festival programme will feature an eclectic mix of Americana, folk, blues, rockabilly and bluegrass with more than 100 shows taking place in venues throughout the medieval Irish city. The good news is that over 80 of them are free!
The city will come alive to the sounds of bands and solo artists from USA, Canada, UK and Ireland, prompting Mojo magazine to declare:
'Kilkenny Roots might just be the best pound for pound festival of its kind anywhere'
More details available at: www.kilkennyroots.com