The Kilkenny Roots Festival has been running since 1998 and has proved to be a huge hit with some of the finest names in the Americana/Roots canon. The festival is due to take place between the 1st and 4th May in Kilkenny City with some of the most renowned musicians in the genre making the trip to Ireland to perform.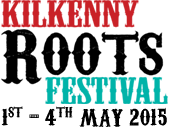 Acts such as Calexico, Ryan Adams, Alejandro Escovedo, Phosphorescent, Driver By Truckers, Guy Clark, Ray La Montagne, Alabama Shakes, Richmond Fontaine, Rodney Crowell, Sturgill Simpson, Jason Isbell and Wilko Johnson have featured in the festival in the marble city.
Kilkenny will be alive with revellers making their way through the medieval city during each afternoon sampling the huge range of music in approximately 30 venues, hosting in excess of 30 acts from Ireland, USA, Canada, and UK.
With over 80 ticketed and free shows, prices have been held at the same level for the last seven years with the number of free gigs exceeding 60 during recent times.