Some of the world's leading thinkers from fields as diverse as politics, law, media, sport, science, entertainment, visual and performance art, music, and business will be making the trip to Ireland as part of TEDx Stormont 2014 on the 5th September.
The Stormont Parliament Buildings in Belfast, County Antrim, will once again host the popular global conference of some of the most influential movers, shakers and opinion makers. TEDx Stormont 2014 and is set to host as many as 20 local and global speakers to the historic and iconic Parliament Buildings next month.
The event will be hosted by local broadcaster William Crawley and will feature 23 high profile individuals and performers from the Northern Ireland region and beyond on the 5th September. Speakers will be sharing ideas with over 200 guests and viewers watching online via a live stream.
This won't be the first such TEDx conference in Ireland following the its highly successful debut at the same venue last year with luminaries such as Northern Irish First Minister Peter Robinson, Deputy First Minister Martin McGuinness, Snow Patrol's Gary Lightbody and a host of other well respected speakers addressing attendees in Belfast.
The TED and the TEDx programme originated as a four day conference over 26 years ago in California and has expanded significantly to support world-changing ideas with multiple initiatives.
The theme of TEDx Stormont 2014 will be based around the concept of 'Getting There', with speakers talking for 18 minutes or less to share their ideas on how together as a society, we can overcome modern day challenges here in Northern Ireland and beyond.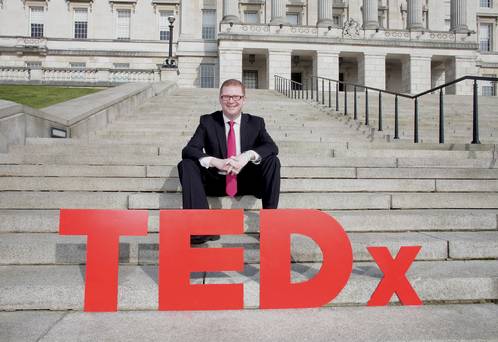 Northern Ireland's Finance Minister Simon Hamilton was at the launch of TEDx Stormont 2014 and went on to say:
"Through the power of our ideas we can overcome the challenges of the 21st century and TEDxStormont presents a wonderful opportunity for us to hear from some fantastic folk from the worlds of politics, business, entertainment and beyond as they share their ideas".