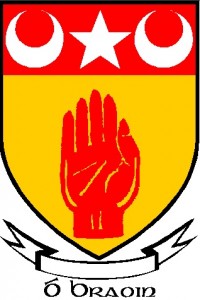 The O' Breen surname is the Anglicized form of the Gaelic-Irish name "O'Braion", descendant of "Braon" and dates from the 11th century.  To this day it is a widely distributed name throughout Ireland. It can be translated by name meaning "moisture" and "drop".  Originally there were different clans of Breen, Mac Breens and O' Breens. The Mac Breens were located near Knocktopher, County Kilkenny. By 1659 the prefix "Mac" (son of) had been dropped. The O'Breens were located in the counties of Westmeath and Offaly.
Some notable O'Breens:
Tighearnach O'Braoin  was the first recorded spelling of the family name
From 1303 to 1324, Donal O'Breen was Bishop of Clonmacnois.
On November 4th 1846, a twenty four year old farmer from Glasgow and an famine immigrant, Denis Breen a famine immigrant sailed into New York.