Ireland is home to some of the most beautiful and historic castles in Europe. Whether you're a fan of architecture, history or just love incredible extravagance, look no further than Ireland. This is confirmed through the popularity of Ireland castle tours where visitors embarking on Ireland vacations can stay in a selection of the finest castles scattered around the four corners of Ireland.
Below we have put together some of the most luxurious and tempting castles and unforgettable experiences that Ireland has to offer, providing perfect inspiration for Ireland tours!
Falconry at Dromoland Castle
Nestled in the natural beauty of county Clare, this hotel is the benchmark of luxury and is a popular choice for those on an Ireland honeymoon. Dine at the exceptional Earl of Thomond where head chef David Mc Cann serves delectable delights such as Lobster and salmon cannelloni, quail and mushroom roulade and heirloom tomato tartare. Once your senses have been satisfied get up close and personal with the highly trained raptors that also call Dromoland their home. A hawk walk is an experience of a lifetime, stroll through the magnificent and ancient woodland with your falconer and hawk in toe. Holding and sending one of these birds of prey into flight is an unforgettable adrenaline rush that can be done alone, with your partner or in groups.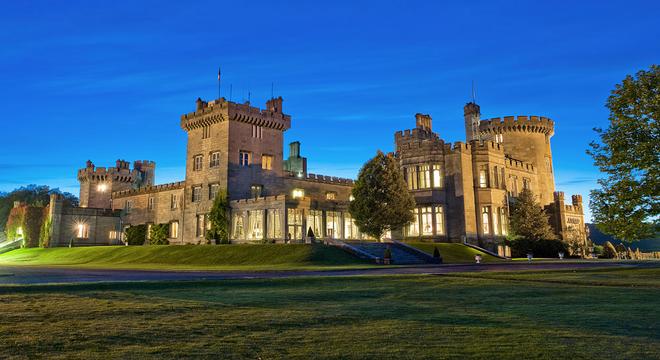 Skellig Islands from Ballyseede Castle
County Kerry is known as the kingdom, Ballyseede Castle makes it so. This resplendently grand hotel is the perfect place to call home while exploring the world famous attractions of the ring of Kerry and the Skellig Islands. As difficult as it will be to leave the fun, stories and craic found at this hotel (particularly fireside at Pappy's bar). The Skelligs are an ancient offshore monastery, which at the time of their creation was the edge of the known world. The incredible islands rise steeply out of the wild Atlantic ocean and are home to many species of wild bird colonies. The island's time worn bee-hive huts have faced the elements for thousands of years and their otherworldly appearance has drawn the attention of many. You may be familiar with these islands from the recent Star Wars trilogy where Luke Skywalker resided in solitude. Make sure not to miss the other memorable sites along this portion of the wild atlantic way such as Dingle, Killarney national park and torc waterfall.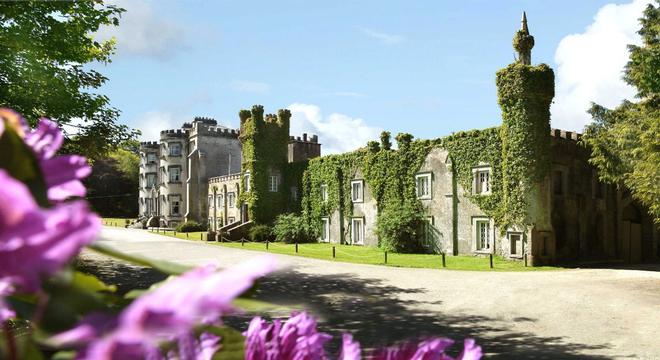 The Burren at Gregans Castle
This stunning castle is situated in the burren region of county Clare, offering spectacular views of Ireland's rocky hills and the untouched nature of Galway bay. This castle has welcomed incredible guests during its time from J. R. R Tolkien to Nobel Prize winning poet Seamus Heaney. He remarked in one of his poems to "And some time, make the time to drive out west". There are memories to be made in these craggy hills, one particular must see destination is the nearby bean to bar chocolate experience brought by Hazel Mountain Chocolate. Never before have your senses experienced the aroma of roasting beans and melting chocolate when you enter this thrilling boutique cafe come factory. It's open layout allows visitors to watch the process while indulging in Ireland's finest chocolate. After this sinfully good experience there are still a million and one things to do from the breathtaking Ailwee caves, the majestic cliffs of moher and the mystical Aran Islands. After taking these memorable excursions there is nothing better than returning to the comfort and care of Gregans Castle.
Ballynahinch Castle
When staying in Connemara, Galway look no further than Ballynahinch Castle. This activity-led hotel has something for every taste. Take a guided tour of the immaculate gardens and estate or improve your shot with their best in class shooting school. This school is for novices and experts alike and is an exceptionally fun and safe thing to do when visiting Galway. If this isn't to your fancy why not join expert skipper John Sullivan in a tour of Roundstone Bay and the now deserted white sandy shores of Inishlacken. Horse led beach treks and cycling tours are also on offer in this one of a kind castle that will leave it's print on you long after your visit.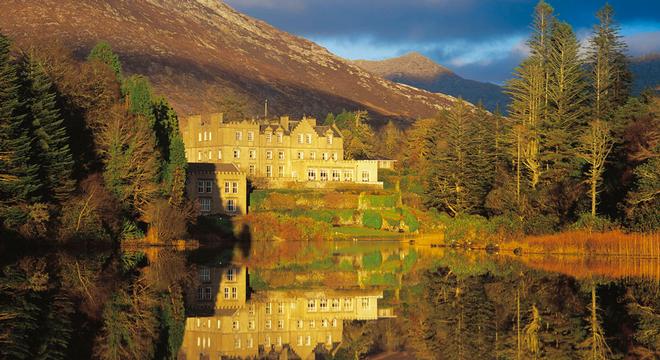 Discover the North from Ballygally Castle
Situated on the coast road this Scottish designed castle merges the charm of historic charm with the luxury and benefits of modern technology and design. Enjoy a Game of Thrones inspired afternoon tea where cast and crew alike stayed during the filming before venturing out to see inspiring and familiar locations such as the King's Road (Dark Hedges) and the Westerosi Ballintoy Harbour. While in this scenic and mythical region of Antrim other must visits are the tourist-favourite Carrick-a-Rede Rope Bridge and of course the Giants Causeway. The world famous Causeway is where science, sea and history meet, these exceptional hexagonal stacks rise from the sea bed and are truly a natural wonder. Accompanied by a new spectacular visitor centre, this is a perfect day out for all during your stay.
Stays in Castles additionally provide the perfect opportunity to sample all inclusive trips to Ireland, where you can sit back and relax and take in the wonderful scenery the Emerald Isle has to offer.