When it comes to trips to Ireland, uncover the incredible 'banner county' of Clare. This incredible location is the perfect destination for a self drive tour of Ireland with widely varying and breathtakingly stunning views, rugged coastlines and remarkable wild terrain. Clare's rugged coastline is also part of The Wild Atlantic Way, Ireland's first long-distance touring route stretching from the Inishowen Peninsula in Donegal to Kinsale in Co Cork. A popular choice for those on Ireland tours, it is the world's longest touring route through some of Ireland's most beautiful places. Fill up your, grab some snacks, plan your playlist and buckle up as you will love this exceptional driving route.
The Burren 100 mile scenic loop
The burren scenic loop is one of the most diverse and dramatic drives found anywhere in the world. A popular choice for Ireland travel, it's harsh rocky landscape is otherworldly, being listed as a UNESCO world heritage site. Burren or "Boireann" in its native Irish means 'great rock', some of the earliest recorded evidence of human settlements remain here, with a remarkable portal tomb being dated to 3800 BC. These remarkable tombs are a must visit when passing through the Burren area.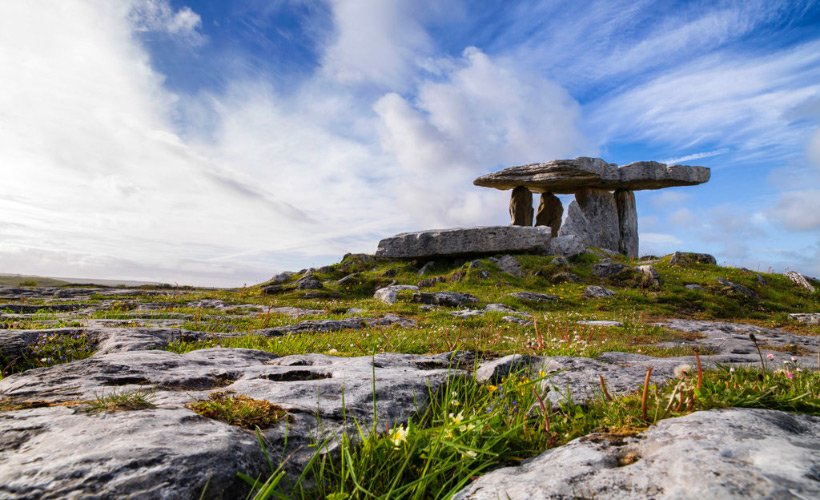 After passing through the Burren National Park you will be brought through Ballyvaughan, home to the ancient Ailwee Caves and Falconry centre. These incredible caves were rediscovered by farms in search of lost sheep. To their good fortune they uncovered ancient animal remains of Irish brown bears, frozen underwater waterfalls and incredible rock formations. A tour of the caves is extremely affordable and lasts one hour, after this see the spectacular range of raptors that call this place home. Bird demonstrations take place multiple times throughout the day and for those after an incredible experience we cannot recommend booking a hawk walk enough.
Travel south from here and you will pass through Lisdoonvarna , a town renowned for its traditional matchmaking festivals for farming families going back generations. Next you will reach the incredible beaches of Lahinch. You simply must stop here and stretch your legs no matter the season this beach is one of the most beautiful in all of Ireland.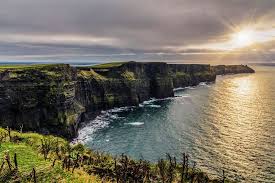 You are now nearing the world famous Cliffs of Moher, some of the largest in all of Europe standing 700 feet above the crashing waves below and spanning miles. These cliffs are truly breathtaking and will leave you in awe at the power and beauty of nature. On a clear day in favourable conditions stare towards the horizon and you will see the Aran Islands. These islands are one of the few places left in Ireland where Irish is spoken as a first language.
This Gaeltacht (Gael- tackt) is a short ferry from Clare to these islands but you travel far more in time than in miles. These islands will give you a taste of Ireland in days gone by with their donkey cart roads, stonewalls and woolen jumpers. On the largest island, Inis Mór you will find a spectacular ancient fort which must be seen to be truly appreciated. It uses a cliff face as a natural wall to guard against incoming enemies. Continue northwards on your return to the mainland , admire the natural charm of Farnore and you will find yourself shortly back where you began.