If a romantic destination with stunning scenery is your dream honeymoon, Ireland is one of the best countries to consider. Here we have put together just a handful of some of the best city and rural destinations for a honeymoon in Ireland as well as top tips from the experts on how to get the best to enjoy your stay.
The idyllic island is host to a variety of romantic and incredibly intimate locations for an unforgettable honeymoon. View our top picks of destinations to visit for the first chapter of you and your partner's newly-wed love story.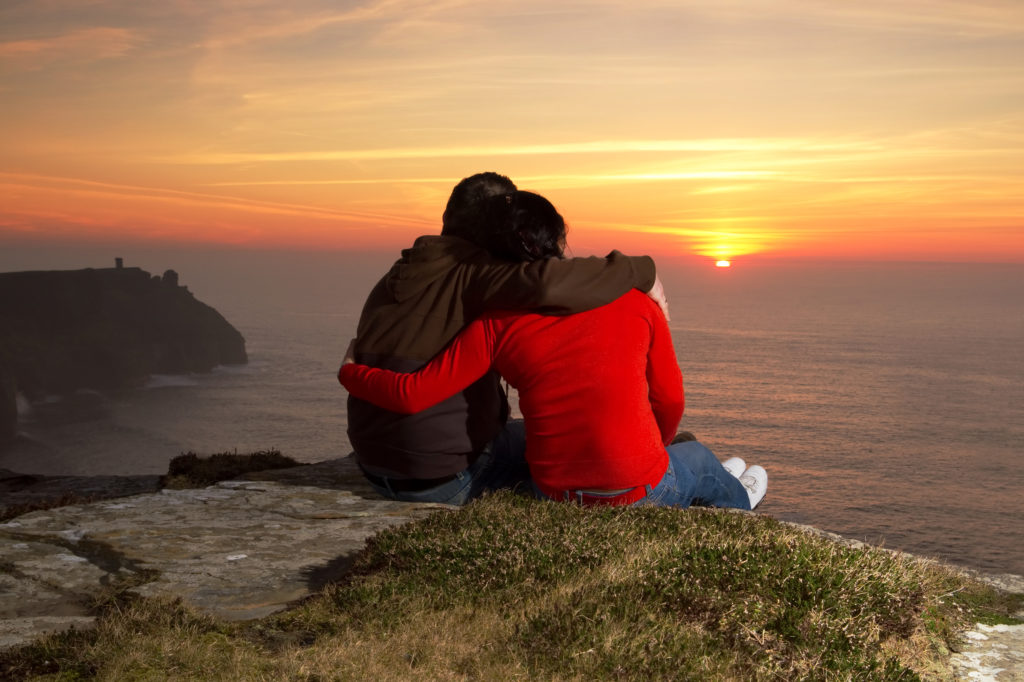 The Wild Atlantic Way
The Wild Atlantic Way is Ireland's first long-distance touring route stretching from the Inishowen Peninsula in County Donegal to the popular coastal town of Kinsale in County Cork. Offering stunning scenery it is the world's longest touring route through some of Ireland's most beautiful places, towns and villages.
The Ring of Kerry
For those planning a vacation in Ireland, The Ring of Kerry is likely to be the most sought after destination. The Ring of Kerry has been attracting visitors to the corner of the far south-west of Ireland for many years and it offers the perfect honeymoon destination either by self drive or with an escorted tour where you can truly sit back and relax. The Ring of Kerry is a circular route that takes in some of the country's best scenery – brooding mountains, rugged coastlines, lakes and some of Ireland's most magnificent historical buildings and heritage attractions. It boasts The Gap of Dunloe, Ladies View, Muckross House, Skellig Michael in Dingle as well as the popular town of Kenmare.
The Cultural City of Galway
Located on the West Coast of Ireland, Galway is known for its allegiance to traditional Irish culture, including the language and music. An enchanting place for visitors and the perfect stop for couples planning an Ireland honeymoon, Galway has much to offer. The charming city itself is easy to walk around in and offers many quirky side streets with shops worth browsing. Dine in the many Michelin Star restaurants including Aniar and listen to live traditional music which takes place in popular bars every night of the week including the Tgh Neachtain and Tig Coili in the pedestrianised Latin Quarter. Stroll along the Salthill prom which is a 1.25  mile seaside promenade, where on clear day you can see the Aran Islands or take a day trip to the Cliffs of Moher or Connemara.
Wicklow – The Garden of Ireland
For many tourists, Wicklow known as the "Garden of Ireland" is another sought after destination for their Ireland itinerary. No trip to Wicklow would be complete without a visit to the impressive monastic settlement at Glendalough. For many years people have been drawn to 'the valley of the two lakes' rich in spectacular scenery, history, archaeology as well as abundant wildlife. Glendalough is a remarkable quaint place that will still your mind and inspire your heart. The glacial valley of the "Glen of the Downs" is a spectacular glacial valley sitting between two steep slopes and is home to spectacular estates and a romantic hotel. With plenty to do in Wicklow including a visit to Roundwood, Avoca, Powerscourt, Wicklow Gardens and historic sites there is plenty to do in this stunning county which is just a stones throw from Dublin.
Dublin- Ireland's Capital
Ireland's capital and largest city, Dublin is usually added to most honeymoon itineraries and with good reason. Dublin is host to many beautiful Georgian buildings, welcoming hospitality, a rich history and culture and delicious eats. Stay in the abundance of luxurious hotels available, dine in the many Michelin Star restaurants such as Patrick Guilbaud and award winning restaurants such as Sole Seafood and Grill in the city centre. Take in a whirlwind tour of Dublin's many tourist attractions such as Trinity College, founded in 1952 which is home to the stunning Trinity Library and Book of Kells. Other notable sights in the city centre of Dublin include Dublin Castle which is an Irish government building, Christchurch Cathedral, St. Stephen's Green, and St. Patrick's Cathedral, which is the tallest and largest church in Ireland dating back to 1191.