TripAdvisor's Travelers Choice Awards have been released, naming the best restaurants and hotels in Ireland. The platform giant bases their decision on the quality and quantity of millions of reviews in 2019 prior to Covid 19. Below we have outlined the top 3 hotels and restaurants in Ireland according to TripAdvisor, which may lend you some inspiration when planning Ireland vacations.
Hotels
1. Harvey's Point, Donegal
For the seventh time in eight years this remarkable four star hotel has been declared the best hotel in Ireland. When it comes to Ireland tours, Harveys Point is a popular choice on the list as it offers some of the most spectacular scenery found anywhere in Ireland. The hotel is situated between majestic mountains and breathtaking gentle lakes. This family run hotel punches well above its weight, being listed the twelfth best hotel in Europe. The spectacular Harvey's Point Hotel is the perfect tonic to the confusion and disruption of the previous few months. We feel you will find peace and calm in the serenity of the surrounding countryside and will be taken to blissful heights by their extravagant and luxurious menu.
2. Killarney Park Hotel, Kerry
A perfect choice for those planning Ireland trips second place is not common territory for this best in class hotel. This experienced and notoriously welcoming team of the Killarney Park Hotel operates like clockwork to ensure the highest levels of satisfaction to their guests. With the wilds of Ireland's first National Park as your backdrop, this hotel brings old world comforts as well as all modern amenities. Their dining options highlight some of the best local ingredients Kerry has to offer and their wellness packages simply cannot be missed. There is simply never a bad time to visit this exceptional destination in the heart of Killarney National Park.
3. Ashford Castle, Mayo
Ashford castle is one of the country's leading castle hotels. It's location and grounds are immaculate beyond comprehension. Past guests include both Hollywood and genuine royalty, and if you are lucky enough to visit this hotel you will understand why. For those of you who like to engage in outdoor activities during your stay; they boast an exceptional golf course, the country's leading falconry centre, thrilling shooting classes. Eating in their unearthed historic wine cellars is simply an experience like no other.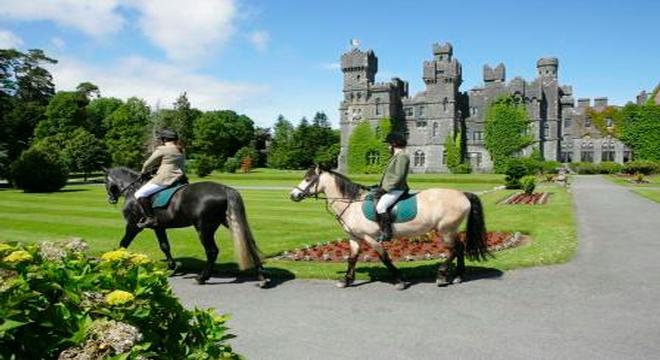 Restaurants
1. Chapter One, Dublin
Former home of distiller John Jameson, this multi award winning restaurant still retains its character. Boasting a Michelin Star, this is one of Dublin's most desired eating locations. Customers ritually attend this restaurant ahead of a theatre night. Their friendly and professional team will take you on a culinary adventure through some of the most creative and exceptional cuisine found anywhere in Ireland. Many have tried to achieve this coveted number one spot, it takes the customer obsession and passion for food expressed by Chapter One to achieve it.
2. An Port Mór, Mayo
Located in the charming town of Westport, co. Mayo An Port Mor Restaurant merges the best of Irish surf and turf along with hyper local artisanal craft produce. Whether you choose their mouth watering 21 day aged rib eye or perfectly smoked connemara salmon you will be more than satisfied with your elegantly prepared dish. We highly recommend checking the adventurous and experimental daily specials for a truly outstanding meal.
3. Mulberry Garden, Dublin
This hidden gem is located in a garden, down a quiet lane in Dublin's D4 district. While many restaurants aim to capture a casual fine dining experience, the vast majority fail and this term has often become a meme of itself. However, Mulberry Garden is not one such venue. This intimate location is open Wednesday through Sunday only and it's kitchen creates exclusive one off menus each week subject to their producers availability and what is in season. Somehow this dedicated kitchen staff are able to offer a choice of three starters, one meat, fish main & vegetarian, a main course and a dessert or cheese board for only €55 per head. One would easily pay this for far less superior food elsewhere, this restaurant boasts some of the best value of money anywhere in Dublin.