With the 2015 ICC World Cup fast approaching, it was announced by Tourism Ireland that they will be acting as the main shirt sponsor of the Ireland cricket team for the tournament, which commences on the 14th February. This unique partnership was announced by Minister for Transport, Tourism & Sport, Paschal Donohoe TD, at the cricket grounds in Trinity College Pavilion in Dublin, with Minister of State with responsibility for Sport and Domestic Tourism, Michael Ring TD, also in attendance.
The 2015 ICC Cricket World Cup will one of the world's biggest sporting events of the year, in terms of its global viewing audience, and is being jointly hosted by Australia and New Zealand between 14th February and 29th March. It is estimated that the tournament will be televised in almost 220 countries, to a potential audience of 2.5 billion which would be a potentially huge target market for Tourism Ireland.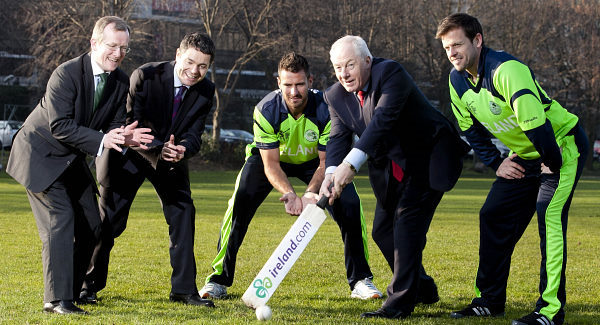 Tourism Ireland hope that this unique opportunity to benefit from the growing popularity of cricket in Ireland particularly with the Cricket World Cup about to commence. It is hoped that the partnership will help support tourism growth and trips to Ireland from Australia and New Zealand, as well as other key cricket-loving countries, including England, India and South Africa.
The organisation intends to leverage the huge, positive media exposure of the tournament – with its Ireland.com logo prominently displayed on the team's playing shirt and training kit; the logo will also feature prominently on the website and social media platforms of Cricket Ireland. The CEO of Tourism Ireland, Niall Gibbons, greeted the news by stating: 
"We are delighted to be associated with the Ireland cricket team and such a high profile tournament. Our sponsorship of the team in this year's Cricket World Cup offers us a unique opportunity to highlight the island of Ireland to a huge global audience. It's wonderful for us to be involved in a sport that has such a wide appeal in many of our important tourism markets – and we look forward to connecting and communicating with a wide audience of cricket fans across the world."
This year's tournament will be the third time that the Irish cricketers will compete on the Cricket World Cup stage. During their first two appearances in 2007 and 2011, they achieved two of their greatest successes and possibly two of the biggest upsets in the tournaments history, defeating two of the traditional cricketing heavyweights -Pakistan and England respectively. Both victories were greeted with great acclaim by the media and general public alike and has seen a sharp increase in the popularity of sport throughout the country.
Sport-related tourism has emerged as a very significant element in world tourism in recent years, with a multi-million euro market and a huge potential for countries who position themselves correctly. High profile sporting events such as the ICC Cricket World Cup provide Tourism Ireland with a unique opportunity to highlight the island of Ireland as a wonderful holiday destination as well as a top location for sporting events.
Australia and New Zealand are growing markets for Irish tourism; in 2014, with almost 212,000 visitors from Australia and New Zealand planning Ireland vacations. And the outlook for 2015 is positive, with sentiment amongst the Australian and New Zealand travel trade very positive about continued growth.
The Ireland cricket team face the West Indies in their first game of the tournament in New Zealand, on the 16th February.