Here at DiscoveringIreland we have a social committee to organise events throughout the year for our colleagues which gives us an excuse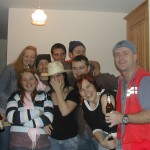 to let our hair down (those of us who still have hair that is!). This weekend, the fantastic committee (yes I am a member; how did you guess?) has organised a two night stay in a little town in County Kerry, called Kenmare. We will stay in some self-catering houses in a development called Inbhear Sceine for two nights while enjoying some activities together and perhaps a party on Saturday night.
Self-catering is a great way to spend time together if you are on holiday and you want to use a particular area as a base to explore a region. You sleep when you want, have breakfast when you want (because you do the cooking) and there are no maids knocking on your door wanting to clean your room when you still want another hour of zzzz's. Kenmare is one of my favourite places in Ireland and is only an hour from where we all work together. There are some great pubs and restaurants in the town and plenty to do and see. It is an area of great natural beauty and we will go for a walk on Saturday to enjoy the countryside on one of the many walking trails there are in this area.
On our staff here at DiscoveringIreland we have many interns as a result of our well established intern programme and for many of them it will be their first time in County Kerry which is an area of stunning natural beauty and great hospitality. No visit to Ireland is complete without sampling the delights of "the Kingdom" as the county is known and with the triple attractions of Killarney, the Ring of Kerry scenic drive and the Dingle peninsula it is no wonder that it attracts such numbers of tourists each year. Kenmare tends to be slightly overlooked but this weekend I hope to show my overseas colleagues just why it is one of the very best places to visit even for a weekend out of season. One thing is for sure, Kenmare isn't going to be sleepy and peaceful this weekend!