In our last newsletter we were amazed by the feedback we got on our suggestions for the top 10 places to visit in Ireland. Plenty agreed with some but no one agreed with all and we got many suggestions on special places to visit all across or wonderful little Island.
That got us thinking….instead of publishing all the feedback we received why not get you our Guests to write about the places you think all visitors to Ireland should make that extra little effort to fit into their vacation.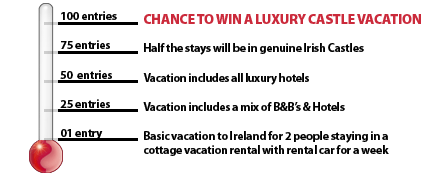 Whether you have a list of 3 or 23 why not talk about it either on your own blog or website? Alternatively comment on our facebook page, send them to us via twitter or simply email them in and we will publish the very best of them here on our website.
To mark this we are also offering an amazing FREE vacation to Ireland to the person we deem writes the best blog post/s about the reasons that make Ireland such a special place to visit.
How does it work?
Our starting prize will be a basic vacation to Ireland for 2 people staying in a cottage vacation rental with rental car for a week
– great if you can get it but how about some more? …
Once we reach 25 entries the bar rises and the vacation includes a mix of B&B's & Hotels
At 50 entries, the vacation includes all luxury hotels
Get us to 75 entries and half the stays will be in genuine Irish Castles
When we have 100 or more entries, all entrants will have the chance to win a luxury castle vacation in Ireland.
Rules:
There are no rules for entry as such but here are some things we won't say no to:
Nice mentions of DiscoveringIreland
Becoming our friend on facebook … www.facebook.com/Discoveringireland
Links to our website
Constructive comments of our website
We love lists – top 3, top 5, top 10 etc.
Looking forward to hearing from all you Ireland enthusuiasts soon.
Once you have written about Ireland – email: seamus.omurchu@Discoveringireland.com
with details of where the article is posted,
Entering is as simple as that!