Cork Airport has announced that passengers can now book flights between Cork and the USA in one single transaction.
In a deal between Aer Arann and Aer Lingus, passengers will now be able to book flights from USA airports to Cork with a stopover in Dublin. Checked luggage will be transferred au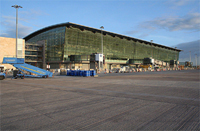 tomatically to the connecting flight and boarding passes will be issued for the Dublin-Cork leg in the USA.
This deal will benefit both inbound and outbound travel through Cork Airport as Irish passengers will be also be able to book flights from Cork to eg JFK via Dublin in one transaction.
Managing director of Aer Arann, Garry Cullen, issued a statement stating "The ability to through check luggage all the way to your final destination from Cork, and transfer seamlessly to Aer Lingus' USA services in Dublin will be of great benefit to Aer Arann and Aer Lingus customers. The partnership with Aer Lingus will benefit Munster by making the region more accessible to the USA inbound tourist and USA corporate travel markets."
The streamlined booking process allows customers to book flights both to and from Cork direct to seven destinations in the USA in one single booking transaction and opens up Cork as a final destination for US Guests wishing to travel to Ireland.