There is no better way to discover a place other than with a road trip, and Ireland is the perfect place to do this. Its 2,500 km of wild coastline, where the land and the sea come together into a breathless scene, gives the opportunity to experience the Ireland vacation of a lifetime. An ideal route to enjoy whilst taking a self drive tour of Ireland or Irish honeymoon, the Wild Atlantic Way is majestically wonderful. So, it's time to pack your cameras, bags and your adventurous spirit to discover this amazing and unique place.
From County Cork to Donegal you can visit castles, national parks, live a mystic experience following St. Patrick's footsteps, and awaken the force with you.
Different routes give you the opportunity to create the best solution for all your holidays' needs, so…let's start with the adventure!
County Cork, From Kinsale to West Cork: This part of the Wild Atlantic way cross the southern part of the Island, where the lovely towns of Kinsale and Clonakilty are the starting point. This area provides wilderness and comforts, beautiful beaches like Barley Cove, exotic gardens at the Bantry House and even more activities to do.
The most famous interesting point in the area is undoubtedly Mizen Head, where the 99 steps and the arched bridge are ready to be conquered. In this place, you can also admire the wildlife in its natural habitat, such as seals, kittiwakes and if you are lucky, spot the magnificent whales.
The Ancient Kingdom Of Kerry: This area was nominated by Lonely Planet in 2017 one of the top 10 regions to visit. Three years later we think that is still like the best place to spend your holidays. The reason? Well, beautiful coastline, mountains and a breathtaking view offer an amazing opportunity to try different activities, like watersports, hill walking, and hiking. The lovely village of Caherdaniel provides the best location to access the Kerry Way, a 200 km trail through the mountains, and the Derrynane Bay, where the mountains meet crystal water.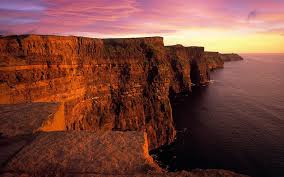 County Clare, Mayo and Galway, Cliffs, Bays, and Culture: from the space landscape of The Burren to the breathtaking Cliffs of Moher, this area of the Wild Atlantic Way will also host cultural events from February 2020 until January 2021. The lovely and romantic city of Galway has been in fact nominated as the European capital of culture for 2020 and in July will be the place of the Galway Film Fleadh.
Culture, nature, adventure and incredible landscapes, create a perfect combination for an unforgettable holiday. Bays with crystal water, where you can find 365 little islands of the Clew Bay, one every day of the year; the wild beauty of Connemara, and the Clare Island, the burial place of Grace O'Malley, the Queen of the Pirates.