The Aviva Stadium in Dublin is set to host an American college football game in 2016, which will be the third time in five years such a sporting event will be staged in Ireland. The Aer Lingus College Football Classic will see Boston College take on Georgia Tech at the Aviva Stadium on Saturday, 3rd September, 2016.
The big announcement was made at the reception in the Mansion House in Dublin by An Taoiseach Enda Kenny TD, which was followed later in the day by a similar launch at the Boston College Campus in the U.S. attended by the Mayor of Boston, Marty Walsh.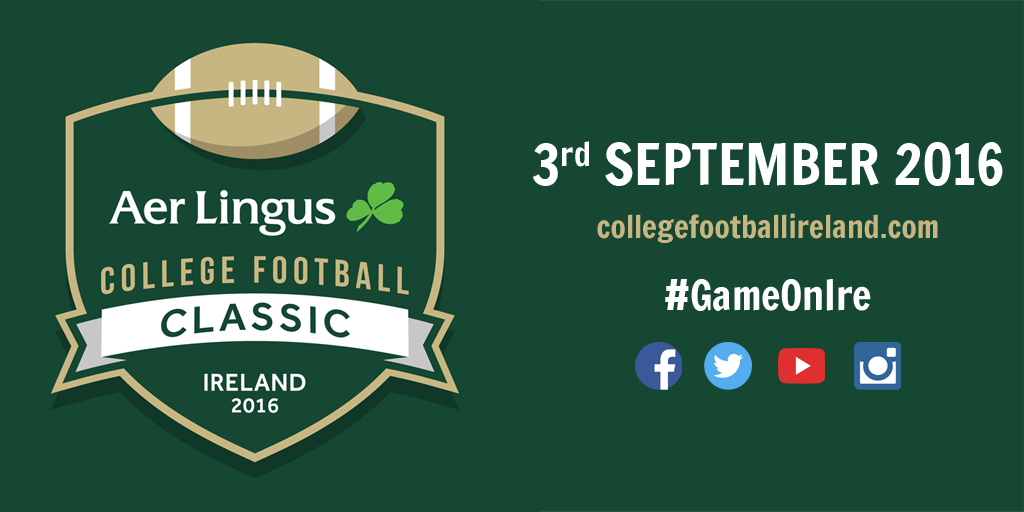 The principle Title Sponsor for the game will be AerLingus which sees the Boston College Eagles kick off their 2016/17 NCAA Division I College Football Season in an Atlantic Coast Conference game against the highly competitive Georgia Tech Yellow Jackets.
It is hoped that the Aviva Stadium will be full to capacity for the event with almost 48,000 expected to attend. As many as 25,000 are expected to make the trip to Ireland from the US and Europe for the game. Tickets for the big game won't be going on sale for another few months yet but a range of special vacation packages to Ireland were made available in the US in addition to the corporate hospitality facilities at the Aviva Stadium.
Ireland's Prime Minister, Enda Kenny, greeted the news that College Football was returning to Ireland by stating:
"This is great news for our tourism and the Irish economy; in 2012 and again last year September we witnessed a huge surge of US visitors to our shores for the Emerald Isle Classic and the Croke Park Classic and I have no doubt given particularly Boston College's close links with this country we will see another spectacular success in 2016. Sports tourism and events like this College Football game have become increasingly important as we look to build and develop our tourism industry and I want to thank Boston College President Fr. William Leahy for his support in making this game a reality".
This will be the second time Boston College are making the trip to Ireland following their first visit back in 1988 when they defeated Army 38-24 in the old Lansdowne Road, watched by a crowd of 42,000
With such strong ties to Ireland, Fr. William P Leahy of Boston College spoke of his delight about returning for the 2016 Aer Lingus College Football Classic:e
"Our history and our connections with Ireland are well known, we are very proud of our campus on Dublin's St. Stephen's Green. 2016 is a very special year in Ireland's history and we are particularly pleased that we will be travelling with hopefully tens of thousands Boston College supporters to share in those celebrations and enjoy this important conference game with Georgia Tech".
The game is being organised by a new entity called Irish American Events Ltd which is a joint venture between Corporate.ie and Anthony Travel who have been involved in the recent college football games in Ireland. All details regarding the Aer Lingus College Football Classic can be found on www.collegefootballireland.com. #GameOnIre