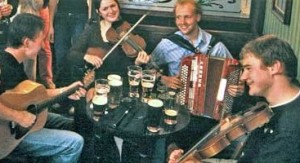 Bodhráns, Fiddles, Uileann Pipes, Tin Whistles and the Accordion are just some of the most popular instruments used in traditional Irish music. The soothing sounds of these instruments are what help to make the genre so popular with young and old. It is not surprising that the unique sound continues to soar in popularity even in today's modern society.
The enchanting atmosphere that comes with traditional Irish music has long made it a favourite with locals and tourists alike. The setting of the traditional Irish pub has long been associated with the sights and sounds of a traditional band playing the well known and best loved Irish folk favourites to a well receiving crowd. With a vibrant mix of culture and song entwined in both traditional music and dance, an Irish musical experience is not to be missed while visiting our emerald isle.
There is always plenty to see and do when it comes to traditional Irish music up and down the island of Ireland. Across the next month the Cork Folk Festival will take place from the 4th of October to the 7th of October. This four day celebration will not only include traditional Irish music, it will be accompanied by Irish set dancing and other open air events across Cork City. The Patrick O' Keefe Traditional Music Festival is another event well worth booking your Ireland vacations around as it continues to take place every October Bank Holiday weekend since 1993 in Casteisland, Co. Kerry.
Stay tuned to our blog for more updates and reminders for some of the great traditional Irish music events.