Cork Week, the biennial regatta hosted by the Royal Cork Yacht Club and Ireland's largest sailing event, kicks off tomorrow in Crosshaven, County Cork.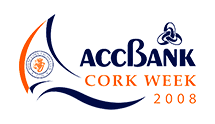 This time around Cork Week has a new title sponsor in ACCBank, the first in almost a decade since the long-term sponsorship was relinquished by the Ford Motor Company. Today many still refer to the festival as Ford week, though the brand "Cork Week" has been well established in the intervening years.
While the event is built around the regatta with over 400 entrants competing on 5 different courses, Cork Week is not just about sailing! The tented village has become a permanent feature at Cork Week since 1986 and hosts live music, bands and clubbing available in four different marquees.
Each night  there will be live music in four different marquees, with a new main stage playing host to the following acts:
Saturday 12th July – Revenge
Sunday 13th July – Aslan
Monday 14th July – The Walls
Tuesday 15th July – Bagatelle
Wednesday 16th July – Paddy Casey
Thursday 17th July – J-90
Friday 18th July – Bluemoose
I've attended the opening night on 3 occasions and believe me, with thousands of revellers attending it is much more like a music festival than a yachting festival.
For the serious yachtsman/woman, the festival really begins on Monday (August 14th)  when the sailing begins competitively.
Over 400 boats with over 5000 sailors will take to the water throughout the week on 5 courses, 1 within the harbour and 4 outside the mouth of the harbour.
One of the event's most prominent patrons is Roy Disney, former senior executive for The Walt Disney Company, who has competed 3 times at Cork week (1992, 2002 & 2004), coming 1st overall in 2 of his visits.