The county of Cork is situated along the South West coast and the Wild Atlantic Way in Ireland. With many sights, activities and stunning attractions on offer, there's never been a better time to discover the picturesque county. Many of these breathtaking sights can be discovered independently on a self drive tour or sit back and relax, take in stunning sights of Ireland and let someone else do the driving on an escorted tour of Ireland.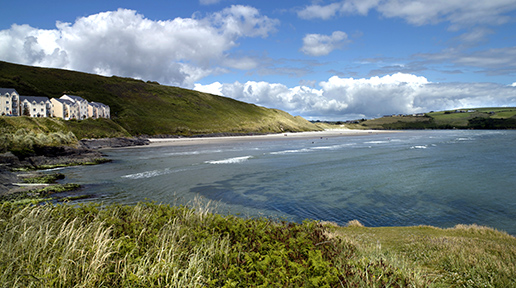 For all history lovers and explorers, County Cork gives us the opportunity to spend a summer surrounded by incredible locations. Visiting these places means walking in the footsteps of people from the past, discover the culture and try new things in the Rebel County.
Spike Island and the Titanic
The island of Cobh, called also Great Island, is not only the place where take a picture of the famous Deck of Card Houses, but is also the location of the "Irish Alcatraz" and the last post of call for the Titanic.
Well connected with Cork City through a train and a bus service, Cobh in summertime offer daily tours to Spike Island fortress and prison in the past and now an incredible place to discover Irish History. This little town offer moreover, a museum on the migration, the Heritage Centre and an opportunity to discover the real story of Titanic Experience
Kinsale
This lovely and colorful town is one of the most popular place to visit in Cork area.
Charles Fort and James Fort are incredible locations to discover Irish History, while the town centre offers the opportunity to eat amazing local seafood, buy arts and crafts and take the perfect Instapicture.
Cork City
Cork City is beautiful during every season, but the Summer has a particular charm.
The places to visit are endless, as well as the things to do such The English Market.
Fresh food, colorful veg from all over the world, lovely cakes and bread. This is the perfect location to start a day of exploration around the city. After a delicious breakfast, the best thing to do is start to walk and get lost in the lovely and colorful street of Cork and then stop for a visit to the beautiful historical sites.
Elizabeth Fort, Cork City Gaol, and then Nano Nagle Place and Shandon Bells and Tower, these are all incredible places to discover the historical side of Cork. In this incredible city, there are endless opportunities and for all the tastes. You can also going to amazing places to do some shopping, visit art galleries such as Crawford Art Gallery, have a lovely pint at the Franciscan Well Brewery, the best thing after a long day!